5 Art Events In Detroit This Week is a roundup of some of the best artistic spots in the city, and this week we're featuring our top 5 events for December 2-8. Check back with us every week for the most interesting plugs in the city!
---
1. STATES OF FLUX: ZIM TO DET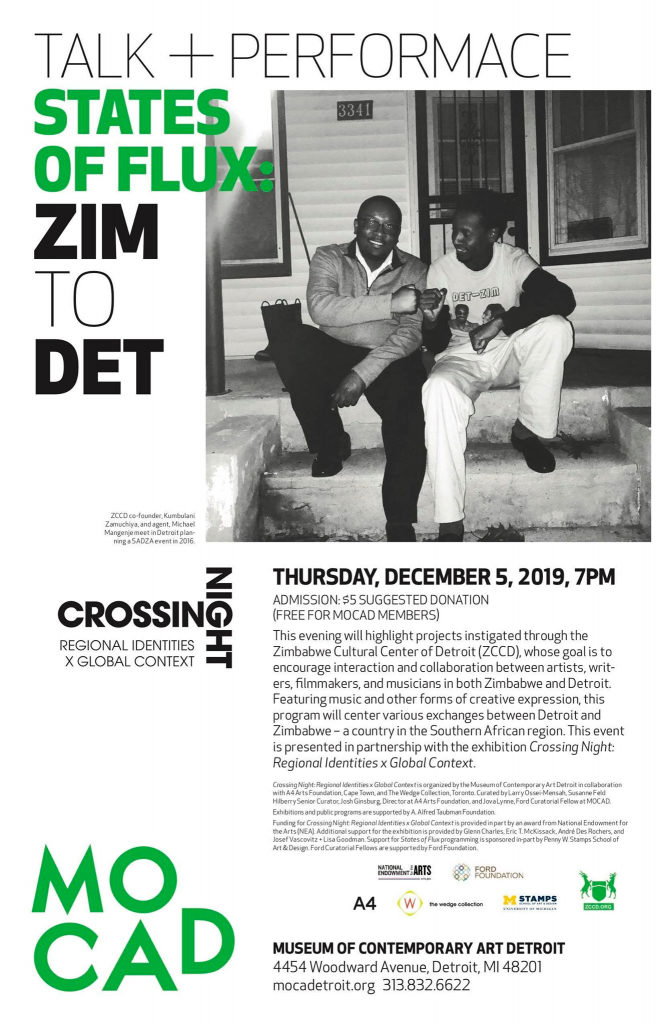 Thursday, December 5
MOCAD (Image: MOCAD Press Release)
"TALK + PERFORMANCE
STATES OF FLUX: ZIM TO DET
Thursday, December 5, 7 pm
Admission: $5 suggested donation (Free for MOCAD Members)
This event is a presentation of highlighted projects developed by the Zimbabwe Cultural Center of Detroit (ZCCD) over the past 6 years. ZCCD was founded by an artist from Detroit and Zimbabwe with the mandate of fostering interaction and collaboration between artists, writers, filmmakers, and musicians in both Zimbabwe and Detroit. Featuring music and other forms of creative expression, this program will center various exchanges between Detroit and Zimbabwe – a country in the Southern African region. This event is presented in partnership with the exhibition Crossing Night: Regional Identities x Global Context.
Support for States of Flux programming is sponsored in part by Penny W. Stamps School of Art & Design" – Facebook Event
---
2. DETROIT URBAN CRAFT FAIR 
December 6-8, 2019
Detroit Masonic Temple (Photo: Facebook Event)
"Friday, December 6th through Sunday, December 8th, Handmade Detroit will bring Michigan's largest and longest-running indie craft fair back to the Masonic Temple. You'll find more than 100 juried vendors, selling a wide variety of unique holiday gifts. With a live DJ, delicious food, and a historic setting, it's a festive weekend you'll want to share with family and friends." – Facebook Event
---
3. DEPARTMENT OF ART AND ART HISTORY WSU NOEL NIGHT
Saturday, December 7
Art at Wayne Detroit (Image: Facebook Event)
"Art Department Gallery Wayne State University
Address: 150 Art Building, 5400 Reuther Mall, Detroit, MI 48202
Phone: (313) 577-2423
Website: https://www.facebook.com/events/1003556843328784/
Time: 1-7PM
Exhibition: Arrivals | Departures: Work by Jeffrey Abt, 1989–2019
This exhibit surveys work Jeffrey Abt produced during his time as a professor in the Duffy Department of Art and Art History, Wayne State University, from 1989 to his retirement in 2019.
The exhibit's title, Arrivals | Departures, refers not only to Abt's passage through Wayne State, but to the beginnings and conclusions of several bodies of work sampled in the show, as well as to underlying concerns that run through several of them. From the beginning of his time in Detroit, as seen in the earliest piece in the exhibit—Museum of Absence, Abt has explored various facets of museum culture. These include transience, which may seem paradoxical because museums are commonly perceived as permanent and unchanging, and museums as viewing machines." – Facebook Event
---
4. DETROIT ART SERIES 2
Saturday, December 7
Russel Industrial Center, Floor 2, Room 213 (Image: Facebook Event)
We have returned! Join us for our second Detroit Art Series hosted by Nick Mahaffey & Melissa DiVietri.
This is a one day / evening exclusive featuring curated artists in photography, abstract painting, mixed media, drawing and special effects.
Early bird entry is $5.00 on Eventbrite // visit this link to purchase your tickets in advance (https://www.eventbrite.com/e/detroit-art-series-tickets-81342398303)
Artist Showing – 5 PM-midnight
Live music – all night long
Setlist will be posted Dec 2
Our featured artists include:
Nick Mahaffey
Melissa DiVietri
Sammy
Claire Kupris
Music Lineup by:
WARE&TARE
WSG with special guest announcements
Location
1600 Clay Street Building One / Floor 2 . Studio 213
Detroit, MI 48226
Any questions, please contact or would like to feature your art or music booking; madyson.tayler1@gmail.com" – Facebook Event
---
5. MURALS IN THE MARKET BOOK RELEASE PARTY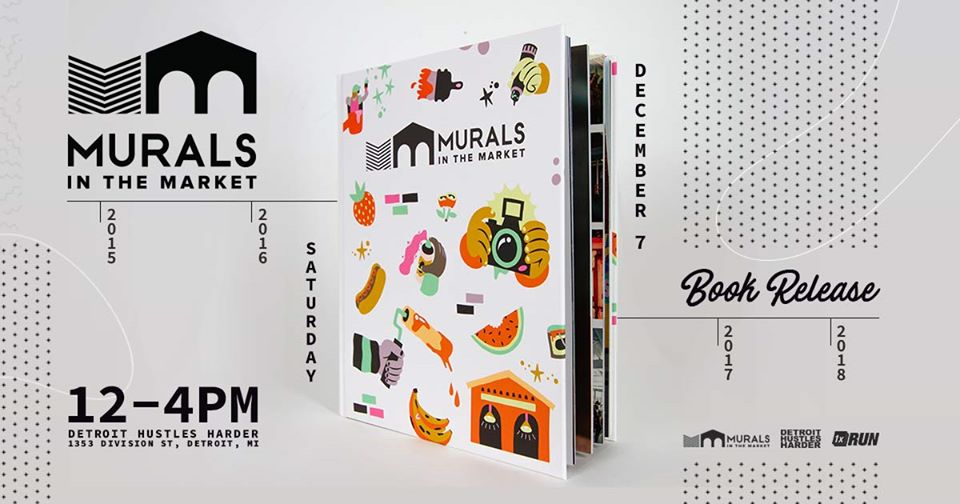 Saturday, December 7
DETROIT HUSTLES HARDER (Image: Facebook Event)
"Murals In The Market is excited to announce the publishing of its first book! It is filled with murals and behind the scenes shots of the 2015, 2016, 2017, and 2018 seasons. We are joining our partners from Detroit Hustles Harder to release the book at their store in Eastern Market Partnership. We hope you can swing by and grab a book in support of this great festival!" – Facebook Event
---
Check back with us every week for the most interesting artistic events in the city! Have a show tip, events to share? Hit up Detroitsit on Social Media!