5 Art Events In Detroit This Week is a roundup of some of the best artistic spots in the city, and this week we're featuring our top 5 events for December 9-15. Check back with us every week for the most interesting plugs in the city!
---
1. HOLIDAY NIGHTS AT GREENFIELD VILLAGE 
Thursday, December 12
Greenfield Village / The Henry Ford (Image: Facebook Event)
"Mingle with merrymakers amid the smells of roasting chestnuts and warming bonfires and the sounds of carolers, fiddlers, sleigh bells and bustling yuletide activity during Holiday Nights in Greenfield Village, presented by Citizens Bank. Every lantern-lit path leads you to discover a new winter wonder. Strap on a pair of ice skates, shout out to Santa and his magnificent reindeer, find your reflection in a handcrafted ornament and nestle into a horse-drawn wagon for a sing-along.
Our 80 acres of living traditions etch America's most heartwarming holiday experiences into your memories. Main Street brims with holiday goods, food and warm beverages. Historic home tours open the doors to centuries of favorite family traditions. From the finest tinseled detail to the fireworks-filled sky that marks each evening's finale, make our holiday story a cherished part of your own.
90th Anniversary Specials, Members receive a 30% savings on opening night.
Members, double your discount on admission on opening night, December 5 – a 30% savings. Valid on admission to Holiday Nights in Greenfield Village on December 5, 2019, only. Limit six. Must be an active member of The Henry Ford on date of purchase. Not valid with any other offers. Void where prohibited.
Save $4 off admission: On Dec. 5, 12, 17 and 18 use code HN0419 for $4 off the price of admission. Limit 6 tickets per coupon. Not valid with any other offer or discounted ticket, including member tickets. Void where prohibited.
Your experience includes:
– Early Access for Members at 6 p.m.
– Decorated Homes and Shops
– Holiday Vignettes Presented in Period Attire
– Carolers and Live Musical Performances
– Holiday Cooking Demonstrations
– Ice-Skating, Rides on Historic Horse-Drawn Wagons, Model T's and Carousel
– Skilled Artisan Demonstrations
– Santa and Live Reindeer
– Christmas Trees and Greens Sale
– Fireworks Finale and Sing-Along
Become a Member and Save.
The best way to experience Holiday Nights in Greenfield Village is as a member of The Henry Ford. Members enjoy 15% off admission, early entry and discounts on shopping and dining during the event. Plus, use your membership for free admission to the museum and village all year.
---
2. WILD LIGHTS AT THE DETROIT ZOO
Friday, December 13
Detroit Zoo (Photo: Facebook Event)
"The Detroit Zoo will light up the night again this holiday season with Wild Lights, a spectacular light display. For 29 nights, more than five million LED lights will illuminate trees, buildings and more than 230 animal sculptures throughout the front half of the Zoo. Experience the magic of the Detroit Zoo in winter as you take in the lights and the sights and enjoy holiday entertainment and special activities for guests of all ages."
Tickets are on sale now!
---
3. CITY BIRD 10 YEAR ANNIVERSARY
Friday, December 13
City Bird (Image: Facebook Event)
"City Bird turns 10 this year!
We're so grateful to our community and customers for ten amazing years (so far!) of support of friendship. Join us for an evening of treats, toasts, and good cheer. We've got a few tricks up our sleeve – stay tuned for more details soon!" – Facebook Event
---
4. TRINOSOPHES ARTS & MERCHANTS MARKET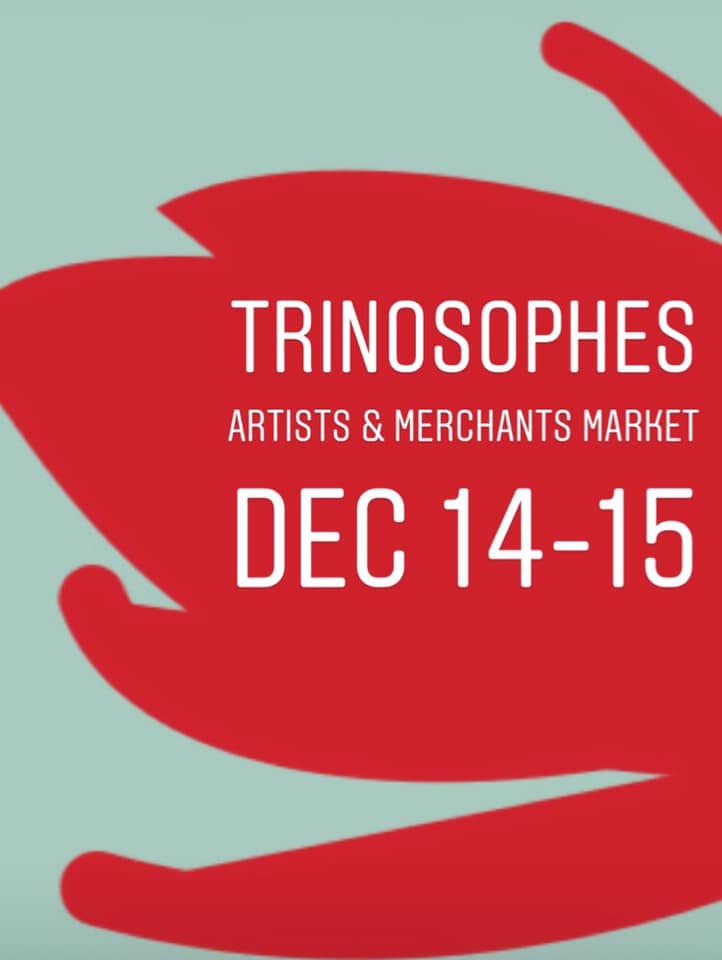 December 14 + 15
Trinosophes (Image: Facebook Event)
"Artists & Merchants Market
Saturday, December 14 – Sunday, December 15
10am-4pm
Featuring:
Vintage Alicia – vintage jewelry
Bem & Gene – vintage children's clothing
Henry Crissman – ceramics + sculpture
Lindsay Farris – painting + prints
Lily Forbes – handmade robes
The Good Rug – African textile + mask collection
Jim Griffioen – handcrafted leather goods + more
Levon Kafafian – textiles
Kathy Leisen – painting
Mary Ann Morren – aprons, houseware + clothing
Megan Major – photography
Michigan Sloyd – woodcraft
Matthew Piper – prints from the archive of David Rubello
Rachel's Place – vintage clothing
Cristin Richard – holiday ornaments
Salt & Cedar – prints, letterpress + objet trouvé
Signal-Return – letterpress, cards + prints
Sonic Juju – vintage clothing
Sun House Craft – handcrafted Appalachian brooms
Trinosophes – vintage pottery
What Pipeline – artwork
---
5. MURALS IN THE MARKET BOOK RELEASE PARTY
Saturday, December 7
Ford Community & Performing Arts Center (Image: Facebook Event)
"On Sunday December 15th 2019 comes the 2019 HOLIDAY ARTIST MARKET featuring locally created art, handicrafts and merchandise! Hosted at newly restored Hubbard Ballroom of the Ford Community & Performing Arts Center in Dearborn, this event will feature 50+ local artists, crafters and creatives of all types selling original merchandise for your holiday gift shopping needs. All artists keep 100% of their commissions.
FREE ADMISSION and ALL AGES are welcome! This all indoor event is open from 12 noon until 5pm with plenty of free parking.
The artist roster will be listed here by December 1st (see below for info on participating).
So stop in and shop local…and don't forget to invite your friends!
2019 Holiday Artist Market – Give Local Art for the Holidays!
Sunday December 15 2019 – 12p to 5p – Free Admission
Ford Community & Performing Arts Center
15801 Michigan Ave, Dearborn, MI 48126
---
Check back with us every week for the most interesting artistic events in the city! Have a show tip, events to share? Hit up Detroitsit on Social Media!