5 Concerts You Must See This Week is a roundup of some of the best shows in the city, and this week we're featuring our top 5 for Dec. 16-Dec. 22. Check back with us every week for the hottest shows and the greatest venues!
---
1. NEW POLITICS, PLAIN WHITE T'S
Wednesday, December 18
St. Andrew's Hall (Image: Facebook Event)
"Rambunctious Danish indie rockers New Politics formed in the late 2000s around the talents of vocalist David Boyd, guitarist/vocalist/keyboard player Søren Hansen, and drummer Poul Amaliel. The band's high-energy, guitar-driven blend of punk, pop, and electronically induced dance-rock (Boyd specializes in wildly unpredictable stage posturing) eventually caught the ears (and eyes) of RCA, which signed the group in 2009." – New Politics Bio on AllMusic.com
---
2. KADAVAR 
Wednesday, December 18
El Club (Image: Facebook Event)
"Steeped in the bluesy, brooding, bottom-heavy traditions of bands like Black Sabbath, Hawkwind, and Led Zeppelin, German psych-rock trio Kadavar unapologetically spin '70s hard rock tropes into contemporary, stoner metal gold. Known for explosive live shows, the band play hundreds of dates a year, and have done so since issuing their 2010 self-titled debut. That hard work paid off as each album sold better than its predecessor, thanks to their tireless road work. Their third album, 2017's Rough Times, entered the album charts in Germany at 18, and landed inside the top 20 on the U.S. Heatseekers charts." – Kadavar Biography on AllMusic.com
---
3. HAUTE TO DEATH
Saturday, December 21
Marble Bar (Image: Facebook Event)
"We've been gone for a month and ready to pull this train into the most important stop on the tour! Meet us at Marble and bring that good cheer and bad behavior with you.
NEW WAVE / POST PUNK
ITALO / ELECTRO
DIVA HOUSE / REGULAR HOUSE
21+ / $3 before 11p, $5 after
Haute to Death prioritizes the safety, comfort, and freedom of our community; offering a positive space for all people of all backgrounds. Bigotry, harassment, and other bogus behaviors are not welcome here, so if you can't empower your fellow party people, this might not be the party for you. If at any point you feel unsafe, please let someone know: a DJ, a bartender, or a nearby friendly face- we'll get it taken care of."
---
4. BLACK CHRISTMAS FEATURING THE SUICIDE MACHINES, ESHAM, ANTI FLAG AND MORE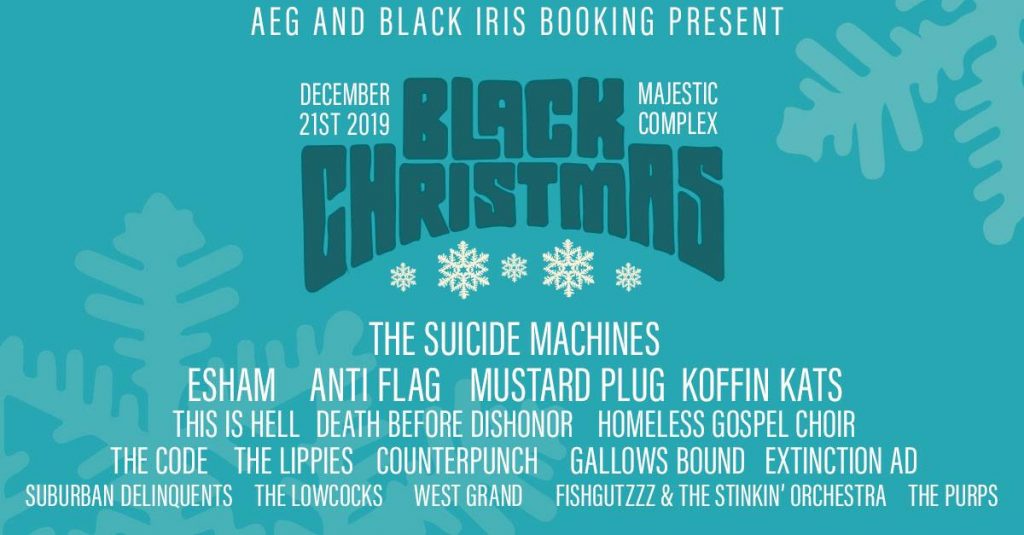 Saturday, December 21
The Majestic (Image: Facebook Event)
"Although many mistake alterna-ska punkers the Suicide Machines as being from California, where most of the genre's bands come from, they're in fact Detroit natives. Starting off in the early '90s, the quartet was founded by Jason Navarro (vocals) and Dan Lukacinsky (guitar/vocals), who saw some members come and go before recording their first demo in 1993 with Derek Grant on drums and Jason Brake on bass. The Suicide Machines did their first national dates the following year and by late 1994 Royce Nunley (bass/vocals) had entered the fray. A full national tour with Buck-O-Nine came next, and the guys soon signed a deal with Hollywood Records, releasing their major-label debut, Destruction by Definition, in 1996." – Suicide Machines Biography on AllMusic.com
---
5. DETROIT TECHNO – SECRET SET DERAOUT
Saturday, December 21
SECRET LOCATION (Image: Facebook Event)
"Round 1 with Morganna from Brazil during "Day of the Dead" shook our response to host another event before end of the year. Here we go, Detroit.
Join our art & music experiment "Signal Techno" – a concept to opt into an exclusive experience to enjoy jungle-like vibes and deep house music in the heart of downtown Detroit. The secret venue/location will be provided 5 hours before doors open; the only notice is that the venue is near the sporting arenas?
Set List // Music Line Up
Melissa DiVietri
(Detroit) 8-9PM
Warren Ross
(Detroit, Michigan) 9-11PM
Henry Brooks
(Grand Rapids, Michigan) 11PM – 1AM
Deraout (official)
(Medellin, Colombia) 1AM – 4AM
---
Check back with us every week for the hottest concerts and the greatest venues! Have a show tip? Hit up Detroitsit on Social Media!