7 Shows You Must See This Week is a roundup of some of the best shows in the city, and this week we're featuring our top 7 for October week of 14-20. Check back with us every week for the hottest shows and the greatest venues!
---
1. Deep Purple
Tuesday, October 15
'The Long Goodbye Tour,' Fox Theatre (Image: Facebook Event)
"Today, Deep Purple – comprised of Ian Gillan, Roger Glover, Ian Paice, Steve Morse and Don Airey – announce "The Long Goodbye Tour" presented by Live Nation. The tour will include over 25 dates across North America including a stop at the Fox Theatre on Saturday, October 15 at 7:30 p.m. Joyous Wolf will provide support." – Facebook Event
---
2. The Head and the Heart
Tuesday, October 15
'Living Mirage Tour,' The Fillmore Detroit (Image: Facebook Event)
"The Mojave Desert reverberates with mysticism. It's a landscape of boulders seemingly transported from the moon alongside Joshua Trees, their tops angled upward like hands grasping at the heavens. This is where everyone from John Lennon and Keith Richards to Victoria Williams and Gram Parsons have come for inspiration. And early last year, it's where The Head and the Heart decided to shed old skin before writing their fourth album, Living Mirage, a sweeping, artful expansion of the earthy folk rock that once defined them." – The Head and the Heart Facebook Biography
---
3. Incubus
Wednesday, October 16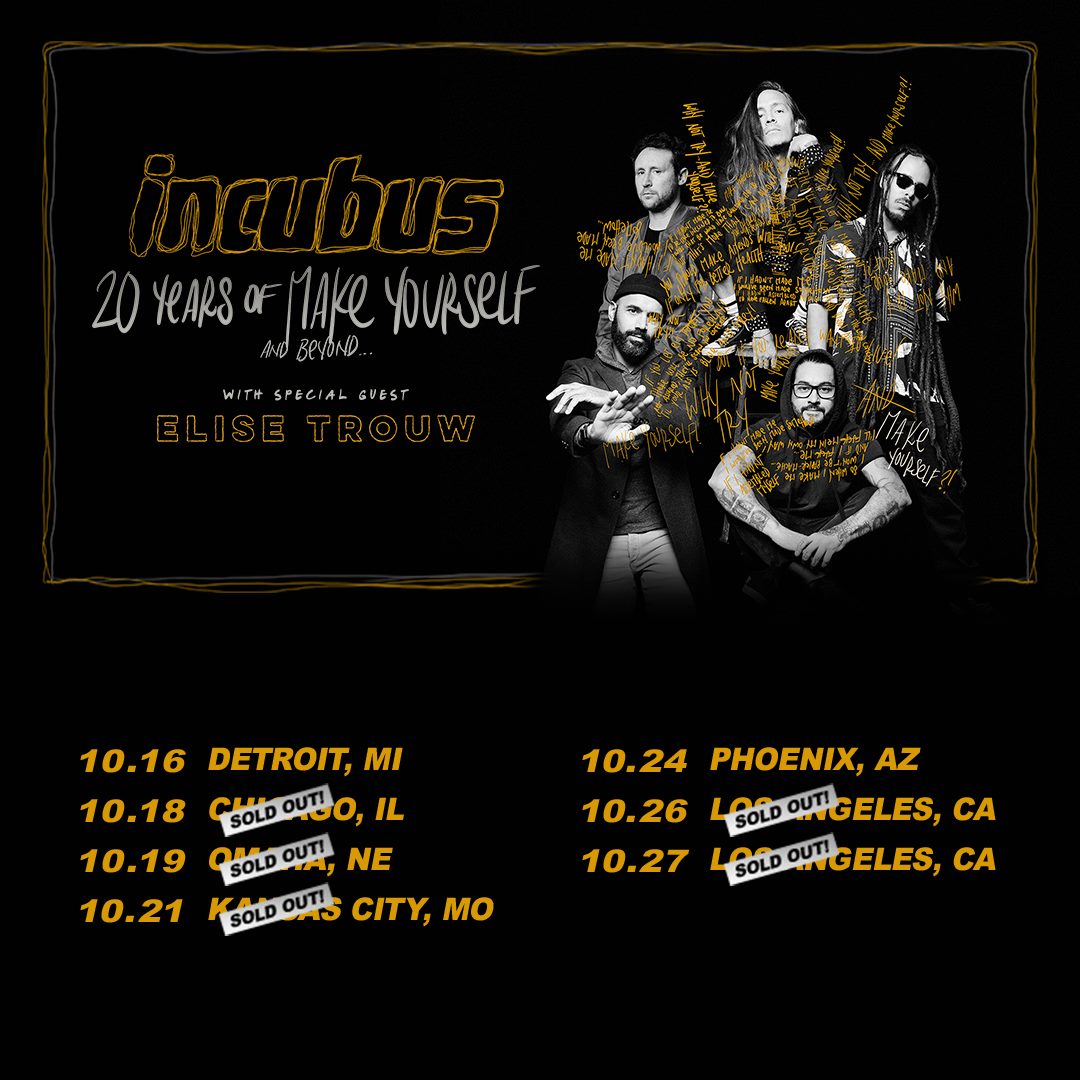 '20 Years of Make Yourself,' Fox Theatre (Image: Facebook Event)
"Incubus became one of the most popular alt-metal bands of the new millennium, setting themselves apart from a crowded field with a tireless touring ethic and a broad musical palette. Formed in 1991 in the San Fernando Valley suburb of Calabasas, California, the band's early lineup comprised tenth-grade classmates Brandon Boyd (vocals, percussion), Mike Einziger (guitar), Alex Katunich (aka Dirk Lance; bass), and José Pasillas (drums). Their early funk-metal sound was heavily influenced by the Red Hot Chili Peppers, but broadened over the next few years to incorporate thrash, rap-metal, post-grunge rock, and grinding alt-metal à la Korn or the Deftones. By the time the musicians had graduated from high school, they had already been playing all-ages shows around Southern California on a regular basis. In 1995, Incubus added hip-hop turntablist DJ Lyfe (aka Gavin Koppel) to their lineup and recorded the independently released album Fungus Amongus. That, coupled with a strong local following, helped the band earn a deal with the Epic Records subsidiary Immortal." – AllMusic.com Biography
---
4. WINGTIPS, Glowing Void, DJ Marc Church
Thursday, October 17
UFO Factory (Image: Facebook Event)
"2019 has been a banner year for goth-pop duo WINGTIPS, who recently released their debut record, "EXPOSURE THERAPY", on Toronto-based Artoffact Records. The duo comprises Chicago-goth mainstays Vincent Segretario and Hannah Avalon, producing unforgettable music that has already captured the attention of media and festival taste-makers alike. WINGTIPS was officially formed in 2014 by Segretario after having informally used the moniker for a number of previous experimental solo performances. The new record, which finds its guitar work inherently in the vain of Disintegration-era Cure, while injecting electronic elements you might hear at home on records by OMD, is an androgynous sound of transition. Interpolating darkly shimmering layers of angular guitar and pulsating darkwave, WINGTIPS sharpens their anthemic rush with an increasing penchant for melody and an atmosphere equally informed by post-punk as sweeping electronica. "EXPOSURE THERAPY" is a contextualization of new romantic for post-millennial end times, and a refreshing mix of synthpop, darkwave, and goth with hooks so compelling they are cinematic in scope." –
Facebook Event
---
5. PnB Rock
Thursday, October 17
'TrapStar Turnt PopStar Tour,' Saint Andrew's Hall (Image: Facebook Event)
"Following the success of his first full-length debut album TrapStar Turnt PopStar and collaboration with Ed Sheeran and Chance The Rapper on Sheeran's track "Cross Me", melodic heavyweight PnB Rock has announced plans for a major headline tour. The TrapStar Turnt PopStar Tour begins September 6th in Poughkeepsie, NY and then continues through late October in the US, with support from special guests NoCap and Rylo Rodriguez." – Facebook Biography
---
6. Berner
Sunday, October 20
The Garden Theatre Detroit (Image: Facebook Event)
"American rapper and entrepreneur Berner made a slow rise from the mixtape underground in the 2000s. With an impressive list of artist collaborations on his resume, Berner is just getting started and doesn't plan on stopping anytime soon." – Facebook Event
---
7. Patti LaBelle
Sunday, October 20
Motor City Casino Sound Board (Image: Facebook Event)
"Actress and singer Patti LaBelle is widely regarded as the queen of rock and soul music. She has received acclaim for many of her songs, including "Lady Marmalade," "When You Talk About Love" and "New Attitude." She began her career as part of the Ordettes in 1959, who became The Bluebelles in 1961. Her success as a solo artist started in 1983 when she released her hit album I'm in Love Again." Patti LaBelle "About" Biography.com
---
Check back with us every week for the hottest shows and the greatest venues! Have a show tip? Hit up Detroitsit on Social Media!