The market for jobs in Detroit is ever-changing, and with this trend comes a restructuring of the very locations and spaces that many businesses operate in. Enter the coworking space, a need once fulfilled by the long-forgotten public library, they have popped up in every nook and cranny of Detroit's greater downtown area.
With different options to work with, we've talked with some of the spaces around Detroit, learning what they offer, and what they bring to the community. Whether yours is a tech startup or you're looking for a group of environmentally-minded individuals, Detroit has the coworking spot to meet your needs.
What follows is a rundown of some of Detroit's coworking spaces, from Midtown to Downtown, and beyond.
BAMBOO DETROIT 
Bamboo Detroit is located on Washington Street in Downtown Detroit and provides all the benefits you'd expect from a busy coworking space. Kitchens, private offices, and communal working conditions are the essentials you'll find in this tech-focused space, but that's not all that is offered by the three floors occupied by the space.
According to Amanda Lewan, CEO and co-founder of Bamboo, many aspects of the space are rooted in supporting the Detroit community, from the way it is set up, to the nature of the events hosted by the organization.
"Everything about us, from the way you walk in and you feel welcome, to the culture in the coworking space, which is really cozy, modern and flexible, to the actual way we curate our events, we really take a focus on community," said Lewan. "As we wrap up 2019, we've hosted probably 50 events this year."
These events and the opportunities they provide are what sets Bamboo apart from its competition. Aiming to provide not just growth for the individuals utilizing the space, but for the Detroit community as a whole with business opportunities, they may not be able to find elsewhere.
"Access to big speakers, big thinkers, we just had a great speaker from silicon valley, a native Detroiter who wanted to give back, so we invited him to come to host a fireside chat. The more events we do, the more we can expose the Detroit community to talent and opportunities," said Lewan. "Anything we can do to expose the greater Detroit community to new ideas, that's how we can contribute."
If Bamboo sparks your interest they offer a variety of plans including general coworking for $150/month up to private offices starting at $800/month.
DETROIT WRITING ROOM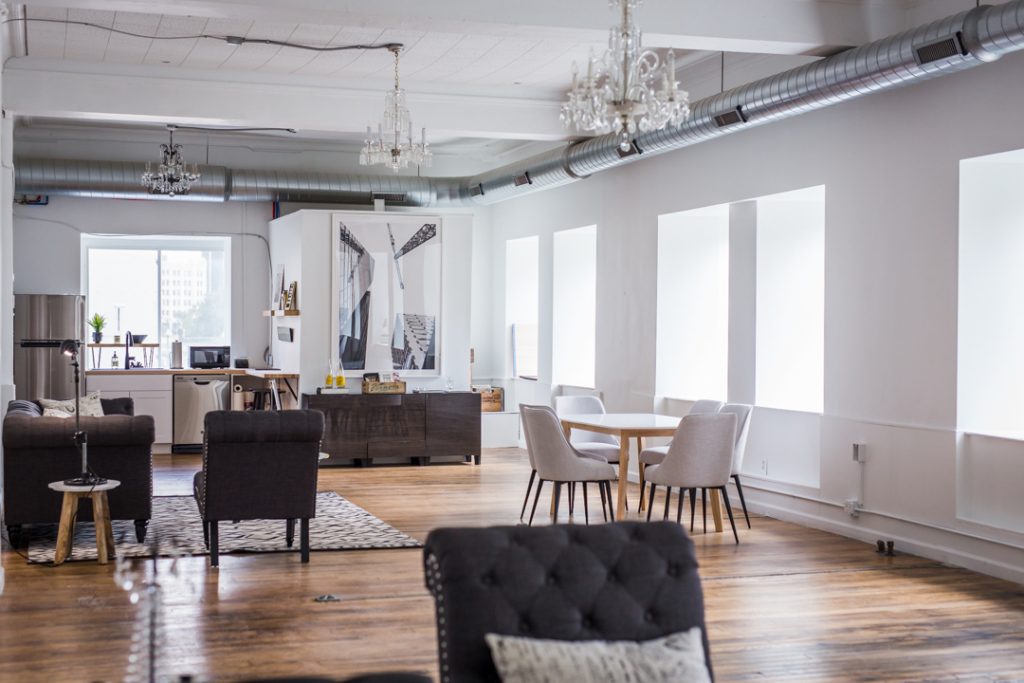 THE DETROIT WRITING ROOM. PHOTO SACRED OVERSTREET-AMOS
The Detroit Writing Room is one of the more unique coworking spaces in Detroit when it comes to the services
offered to its clientele. Journalist, graphic designer, or just someone looking to improve your writing? The Writing Room might be your space. Working with Pulitzer prize-winning journalists and media professionals, this is where you'll meet fellow media professionals, authors, of photographers.
Opened in June of 2019, CEO and founder, Stephanie Steinberg, believes the Writing Room to be a truly unique space, stating, "What we have that is unique are writing coaches, graphic design coaches, and photography coaches. We've got a team of over 25 coaches, and they're all top of the line. Anyone in the community can sign up with them for feedback on anything that they're working on, that opportunity does not exist elsewhere."
Another advantage the spot offers is an escape from the day-to-day doings of a corporate office, catering to the mindset of creative-minded individuals.
"With coworking spaces, a lot of time you walk into them, and they're very tech-centric, there are fluorescent lights and cubicles, and as a creative person, I want comfy couches, somewhere I can feel inspired and be at for 8 hours a day, so I thought, what if there was a working space geared more toward creatives," shared Steinberg.
Memberships vary based on the needs of its members and the services they require. So, if you're looking to escape the days of fluorescent lights and timed lunch breaks, the Detroit Writing Room may be your spot.
GREEN GARAGE
Opened in 2011, The Green Garage is a coworking space that holds to a strong belief in its community, and on creating a sustainable future for Detroit and beyond. Fitting for its name, The Green Garage is located inside a building that used to house an automobile storage garage, and being on the Cass Corridor it's just minutes from Wayne State University. 
According to Green Garage employee Mattew Piper, the Garage started as a space to promote these sustainable principles and later became a coworking community.
"It [The Green Garage] started as a demonstration center for sustainability principals in the built environment, and then as an opportunity to create and support a community of professionals, all oriented around the triple bottom line," said Piper. "This idea stems from being a for-profit business that can have a positive impact on the environment and communities at the same time it is being profitable financially."
While not a complete requirement for businesses looking to get involved, a commitment to the environment and sustainability are key principals for the Green Garage and specializing in supporting businesses committed to this is where the Green Garage truly shines.
"In the last six months to the year, about 90 percent of the businesses that have found us and have joined us are coming from a very intentional environmentally conscious place, and this looks like a food waste consultancy that recently moved in, for instance, as well as a green building certification company," said Piper.
Beyond these principals, an interesting aspect of the Green Garage's commitment to its community are the community luncheons held every Friday at noon. During these meet-ups, the community is invited to share some of the work they are doing. 
Looking to get involved in working toward a sustainable future? Shared seating in the Green Garage starts at $65/month, and dedicated working desks begin at $153.
SEAT DETROIT 
A newcomer to the game, Seat Detroit is the opposite of a corporate workplace, rooted in its community, it calls Detroit's Eastern Market home. Opening December 6th, Seat aims to be a community hub for collaboration. 
What sets Seat apart, according to CEO and founder Que Roland, is that they do not rely on large scale brand funding. Due to this, they aim to make their services affordable to those at the beginning of their entrepreneurial journey because they know what it's like starting a business themselves.
"We are opening this place to be able to share with those around us," said Roland. "We understand each other, we're entrepreneurs too, so we understand we can't charge all this money to people that are new. We need to make our space more easily accessible and affordable for the entrepreneur." 
Seat also offers complimentary coffee, tea, and snacks – all the essentials for a fast-paced ever-changing start-up business.
Looking to get your seat at the table? Seat currently offers a wide variety of plans ranging from a virtual seat for $65/month to the more premium options at $235/month.
TECHTOWN DETROIT
TechTown is your spot for all things related to innovation and technology. Screaming Silicon Valley, the complex located adjacent to Wayne State University seeks not only to become the hub for Detroit's upcoming technology sector but also to serve as the converging point for those looking to drive Detroit's comeback.
"We are that nexus, we want to help grow our ecosystem, and we want to help grow those who are genuine, and not going to only parachute in, but who are committed to the work and the future of the city," said Paul Riser, director of Detroit Urban Solutions for TechTown.
TechTown builds off this mindset, partnering with regional players, including its neighbor, Wayne State University. With easy access to the University, the TechTown complex is across the street from the recently established Wayne State Innovation Hub.
When working out of TechTown, members will have access to meeting rooms, printers, free parking, snacks and event spaces. At present, they have a wide variety of options available including shared deskspace for $150 per month and larger private offices for $750/month.