Horses are not typically something we associate with urban living or inner-city kids, but David Silver is leading the charge to ensure that every Detroit Public School student has exposure to them throughout their education – and he's not alone.
Why horses in Detroit?
Says Silver, "For young people, animal-assisted activities like working with horses have many great physical and mental benefits, including the growth of social-emotional skills."
Silver – a former Detroit Public School teacher – is the founder and Executive Director of Detroit Horse Power, a 501(c)(3) nonprofit that teaches Detroit students to ride and care for horses to help develop critical skills that will set them up for academic, career, and life success.
Since 2015, Detroit Horse Power has worked with sponsor stables to serve about 100 youths annually during the school year and via summer camp programs. The program focuses on kids ages eleven to 18 and involves classroom time as well as transportation to the stables where they engage with the horses through specific programming.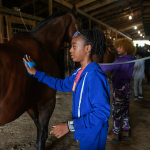 Sponsor stables are as far away as Davisburg and East Lansing and travel time can be an hour or more.
But soon, through a $500,000 grant from The Kresge Foundation, $1.8 million from the state and $400,000 from an anonymous donor, a 14-acre equestrian center that will permanently house 17 horses will be erected on Detroit's northwest side, giving opportunities to up to approximately 1,000 students per year.
The Detroit equestrian center, modeled on similar facilities and programs in Los Angeles and Philadelphia, will be built on repurposed vacant land leased from DPSCD at the site of the former Paul Robeson Academy, which was demolished more than a decade ago following a fire. The site is near Fenkell and Linwood, and the Focus: HOPE campus in the Hope Village Neighborhood.
As to where the idea for this came from, Silver says,
I grew up in the suburbs of New York and am really privileged to have been around horses all my life. Horses shaped me into the person I am today, so I left teaching in 2014 to start Horse Power and to give Detroit youth the opportunity to learn from horses as well.
Silver says the animals can teach important life lessons and help people learn a lot about themselves.
"Horses evolved as prey animals so they are always on the lookout for threats. The way we approach them, our body language, and our energy are important and we must pay attention to the feedback. We can learn a lot about ourselves before the horse even allows us into the saddle. This self-awareness offers significant real-life applications," he says.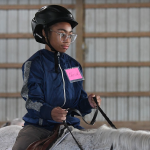 Every program session starts with an opening circle and ends with a closing reflection on character themes for that day. The programming is focused on five traits with the acronym being PERCS.
The P in PERCS stands for perseverance. Silver says, "When working with a 1,200-pound animal with a mind of its own, you have to put in the work and earn their trust."
Next is empathy. "Seeing the world from another being's perspective and caring for a living animal that has needs involves a lot of empathy," says Silver. "There are non-verbal cues and you need to be observant and tuned in."
The R stands for responsible risk-taking. "Some students think they are cowboys and want to jump on the horse and gallop away but we need to really think things through around these huge animals," said Silver. "Others are frightened or nervous but once they step outside of their comfort zone they discover a whole new opportunity."
Confidence and self-control finish out the acronym. "The way we act around horses drives how they will react and self-belief is really important. This is an important life lesson."
Detroit's equestrian center will be the largest urban center of its kind. The organization currently maintains an extensive waiting list, so making more horses accessible locally will be a game-changer.
Says Silver, "Also, having consistent exposure to the same horses and greater involvement with their care takes the rider-horse bonds and their benefits to an all-together higher level."
The center will include classrooms, administrative spaces, an indoor arena, multiple outdoor riding areas and paddocks for horses to graze.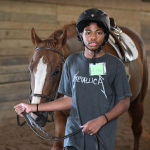 Silver says another pillar of Detroit Horse Power is the community revitalization that horses can provide. The community has been very intentionally involved in the planning.
"Detroit has a lot of vacant land and needs creative solutions to turn the land into assets for the community and Detroit Horse Power will help do that."
The Kresge Foundation Detroit Program Managing Director Wendy Lewis Jackson echoes this sentiment, saying, "The equestrian center promises to be a major benefit to young Detroiters and a positive force in the revitalization of the Hope Village community. This will improve the lives of hundreds of Detroit students while turning blight into an asset for the neighborhood. It is a win-win."
The center will also sit very close to the Joe Louis Greenway. Says Silver, "The Greenway will be just steps from our site, and we expect this confluence of investments in quality of life for Detroiters, easily accessible and just off the Lodge Freeway, to become a regional recreational destination."
The Detroit Horse Power Equestrian Center is scheduled to break ground in 2024 and open in 2025.
As always, be sure to subscribe to our newsletter for regular updates on all things Detroit.