Detroit is coming back. Every day that passes seems to bring something new to the city-wide canvas of small businesses and restaurants. Now, during the pandemic and as the Black Lives Matter Movement continues to surge, Detroitisit has decided to take a closer look into the individual lives and stories of successful businesses that are black-owned around the city and metro area. In this multi-part series, we hear from individuals well-traveled, born and raised in Detroit, and everything in between, as well as each person's beginnings, passions, and personal relationships to the Detroit community.
---
We have heard the phrase over and over, "Do what you love," but for a lot of us, it's not that simple. Our familial commitments and financial obligations make it difficult for us to take the leap into a new career. The Conference Board found in 2019 that only 53.7% of U.S. workers are satisfied with their employment. But how do we join that slight majority? For Alicia Frazier, owner, and founder of Bare Skin, it was a journey, which to her was well worth it. 
Frazier promotes herself as a product of Detroit, born, raised, and educated. She never had a passion to start her own business, but she did have a passion for skincare. She often found herself in the skincare isles in stores, scanning through every serum, lotion, and treatment she could that would suit her sensitive skin. She would do face masks on herself and her friends, and often tried to wash her boyfriend's face. "Even if I wasn't doing a treatment," Frazier says, "I was having conversations, trying to figure out their regimen, what to recommend." But although skincare was something she loved dearly, it stayed as simply a passion through her time in college and first years in the workforce. 
Frazier attended Grand Valley State University and Wayne State University and graduated with a degree in marketing. Post-college, she worked in advertising in the automotive space within the Renaissance Center. However, though Frazier loved her boss, she knew there was something more she wanted from life. "I knew that I wanted to work one on one with people," she says.
Frazier remembers the day fondly when her friend asked her if she had ever thought about becoming an esthetician. Not knowing what the term meant, she researched the ins and outs of the career path. She found it encompassed what she absolutely loved doing–working closely with individuals to accomplish personal goals. Through research, she found that becoming an esthetician included acne prevention, uneven complexions, lightening of dark spots, and such, by performing services like derma-planing, hydra-facials, and temporary hair removal. She knew that this was something that suited her. This was a career path she would love, so she began to attend school part-time while continuing to work at the Renaissance Center.
As soon as she graduated, she took the state board exam, became licensed, and immediately started looking for work. Frazier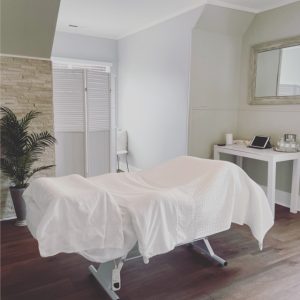 got a job at a spa in Bloomfield and worked there during the evenings while maintaining her corporate job during the day. The tide seemed to change, however, when she was put on a special project at her corporate job. This increased her hours there. Since she was already at the spa for a minimal amount of hours, there was no real way to re-balance her life. So, Frazier decided to start doing facials and facial waxing services from her home. 
Frazier at the time was living in a one-bedroom loft, and she soon came to the harsh realization that it was too small. She began to look for a place to provide her services and found her current space on Jefferson avenue. She officially opened Bare Skin in April of 2017 and continued to work at both her advertising job and Bare Skin. "I made it work," she says, lamenting that most times she cut meetings and appointments with clients too close for her comfort. 
Even then, the idea of taking the leap and working solely for herself didn't appeal to her. "It was a new season of everyone wanting to be an entrepreneur. I am a believer that we are stronger together. I just wanted to do the work and be happy and that was that. It's just something that didn't appeal to me," she says. 
As a trial she decided to open her schedule for a month out, with full time hours. She thought there would be no harm in seeing if there would be a sustainable demand for her services. When time slots filled up almost immediately, she was confronted with the realization that it was time to cut ties with corporate America. "I did it, I took the leap," Frazier shares. "If I wanted to continue doing what I love, I had to create the opportunity for myself. I had no choice."
Frazier says, "I'm continuing to find my way. I think everyone's story is different. And it's important to be true and follow your journey. My journey is continuing to evolve. Be true to the path that's for you, that feels good, that gives you peace. When you're in alignment and doing what you're supposed to do, it's going to work out."
Bare Skin focuses solely on skincare, mostly in the area of facials. She and two independent contractors work with each client to find out their individual needs and wants. Frazier and her team believe that skincare is so much more than just what we put on our skin. It's what we put into our bodies as well as the stress that we feel. Bare Skin works with acne prevention, uneven complexions, lightening of dark spots, and more. They also offer services like derma-planing, hydra-facials, temporary hair removal, and others. Covid-19 is combatted by Frazier and her team by the usage of face masks, face shields, gloves, and ritual deep cleans of their space. The client's temperatures are checked upon arrival, as well as requested to dip shoe soles in bleach water. Bare Skin also has an air purifier proven to catch and cycle out Covid-19 particles.