The College for Creative Studies (CCS) in Detroit recently held its third installment of The Show, a runway event featuring capsule collections from accessories design students.
The collections, created by Jacob Emmett, Jerome Fulton, Mikayla Hoak, Nikki Park, Sofia Proen, Ja'maiya Ryan, Cameron Sucaet, Steven Woznicki, and Fulbright scholar Mehran Musta, drew inspiration from the students' personal identities, experiences, and diverse talents. The designs incorporated materials such as leather, neoprene, tulle, and snake skins, and were influenced by everything from the students' earliest childhood memories to their latest adversities. 
New-age technology, including 3D-printing and microchipping, was combined with classic hand-sewn techniques to create the designs. Each year, the students select a color that collectively represents their designs to help inform the show's theme. This year, the group chose Kelly Green to symbolize new possibilities and hope in our ever-changing society. 
According to Aki Choklat, the Linda Dresner Endowed Chair in Fashion Design at CCS,
The belief is that there is always hope for humanity and what comes next will be chaotically brilliant. The mood will mirror what my students are feeling and seeing currently and how they can be the best for their future.
Established in 2015 under the leadership of renowned footwear designer Aki Choklat, the CCS Fashion Accessories Design program has been heralded as the largest and most equipped fashion accessory design department in the United States. Up until last year, the program focused on fashion accessories design such as footwear, handbags, and small leather goods. With the addition of Antwerp designer Rey Pador as an associate professor and full-time faculty member of the College's fashion department in 2022, CCS has been able to fully expand its curriculum to include apparel design. 
This show marked the final cohort of solely fashion accessories design students, as the major has now integrated to include apparel design. These students, the last class of the pre-fashion apparel integration, exhibited their own apparel designs along with their accessories. The event showcased the incredible talent and diversity of CCS's senior fashion design students and their ability to create unique, thought-provoking designs that reflect their personal experiences and identities. 
JACOB EMMETT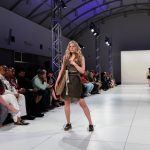 Jacob Emmett is a senior at the College for Creative Studies majoring in fashion accessories design. Craving an unconventional lifestyle and valuing the human experience, he focuses on organic form with distressed finishing through his garments, visualizing the weathered effect of life. His senior collection titled, "TO WHOM IT MAY CONCERN," takes inspiration from fast-paced living and challenges the ideas of beauty within imperfection, as well as the textured experience surrounding this life. Visual inspiration for his collection came from "5k Confinement, HD environment Surface Surveillance," by Luigi Alberto Cippini, a photographic series that analyzes human surveillance and architecture in high definition. Emmett's designs are influenced by the highly textured, detailed edits of human skin and construction are visualized throughout the series. 
JEROME FULTON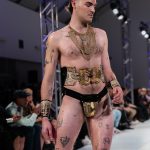 Jerome Fulton is an American fashion accessories designer based in Detroit, Michigan. Born and raised in the Motor City, Jerome fell in love with fashion at a young age. Fulton began his fashion education at Western Michigan University, studying fashion design before moving to New York City, where he attended The Fashion Institute of Technology (FIT). There he studied fashion design, specializing in women's ready-to-wear. While working in the women's designer shoe department at Saks Fifth Avenue in NYC, Jerome grew an appreciation for the art of shoes and accessories. Once back in Detroit, Jerome became an entrepreneur and founded Below The Belt Underwear, a premium men's underwear brand. Currently, he is a fashion accessories design student at the College for Creative Studies in Detroit, Michigan. His featured collection, "EROTICA EXOTICA," is devoted to redefining masculinity and eradicating the stigma behind fetish-wear. Jerome is actively working to develop the Jerome Fulton Accessories Brand, as well as The Fulton Fetish Wear brand. His work can be found on his social @jeromefultonofficial. 
MIKAYLA HOAK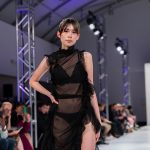 Mikayla Hoak is a 22-year-old, self-taught multi-media artist from Lexington, Ohio. She specializes in fashion design and especially enjoys making and designing formal gowns. Her collection focuses on the juxtaposition of soft and feminine with grunge and messy. Hoak takes inspiration from the "fairy-goth" aesthetic, often using skeletal frameworks in her designs. Her collection, "SEVEN27," represents both what is inside and outside the human anatomy and the struggle of self-expression. 



MEHRAN MUSTA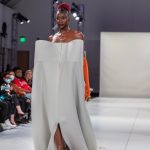 Mehran [Rán] Musta is a designer, architect, CMF expert, and academic. His practice is based on experimentation and analytical studies, exploring the physics of geometries, materials, and their impact on our world, while incorporating physiological and historical references that relate to the human form. His orientation in design focuses on minimal production, stemming from his commitment to a minimalist lifestyle. Musta works with critical ideologies, contemporary technologies, and experts from a variety of fields. He supports the decontextualization of design as a tool to be used for change, supporting minor communities, equality and community outreach. Musta is recognized by the international design community and has worked on award-winning projects sponsored by Armani, Roca, Architectural Digest, and Wallpaper Magazine. 
NIKKI PARK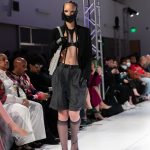 Nikki Park is a fashion accessories designer with a passion for creating luxury leather handbags. Having lived in three different countries and seven states, she draws inspiration from her unconventional and ever-changing home life and challenges viewers to interpret her collection how they see fit. Park incorporates the use of blockchain technology into her designs, with NFT chips embedded into her accessories to create unique and exclusive pieces for the fashion-conscious consumer. She is excited to explore the potential of blockchain in the fashion industry and to continue pushing boundaries with her designs. 


SOFIA PROEN
Sofia Proen specializes in footwear and accessories design, pattern making, prototyping, and technical design. While studying at CCS, she fell in love with the design aspect of the fashion industry and has enjoyed obtaining the skills to convey her designs physically. Proen is passionate about working with leather, taking traditional footwear silhouettes and upgrading them with her unique style and touch. Her final collection, "ORGANIZED CHAOS," is inspired by astronaut apparel and demonstrates "how to dress for space". Through this collection, she hopes to illustrate how fashion can be used as a protective measure, not just from space, but from the culture of conformity and dressing for others. 
JA'MAIYA RYAN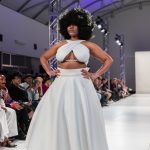 Ja'maiya Ryan is a detailed, professional creative designer with over four years of experience in footwear and apparel design, graphic design, and media marketing. A first-generation college student, Ryan is passionate about leather goods and accessories, most fluent in handcrafting handbags and footwear. In addition to her design skills, she strives to inspire others in her community and to become a continuous representation for Black women pursuing their passion in the arts. Her collection is inspired by the five stages of grief she experienced while being a Black woman attending a predominantly white institution (PWI). Her personal handbag line will be released in May 2023. 
CAMERON SUCAET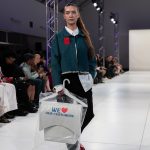 Cameron Sucaet is a luxury leather accessories designer with a focus on footwear and handbags. He is passionate about creating high-quality, timeless, and durable pieces with excellent craftsmanship and attention to detail. The title of his collection, "BEL-CORE," is based on workwear and uniformity in Belgium. Sucaet took inspiration from the book "Belgian Solutions," by David Helbich, a Brussels-based artist, which documents Belgians' unconventional approaches to solving everyday issues. Sucaet's collection redesigns traditional work and business wear to feature unexpected silhouettes and details. 
STEVEN WOZNICKI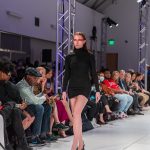 Steven Woznicki enjoys challenging himself and creating designs he sees fit to be in the future. Adopted at the age of four from Moscow, Russia, he chooses to find the beauty in his personal trauma to influence his creativity. In his current collection, he uses the pain of his past and present faith to inform his designs. He draws inspiration from the textures and colors from the grand cathedrals of Russia in Moscow and St. Petersburg, integrating natural materials and 3D printing technology. Woznicki believes that heels are the most intimate item a person can buy, and brings that belief into the artistry of his footwear and handbag designs. 
Photo Credit: Julia Gohlke, Artist Bios: MG SRVR