Detroitisit, in partnership with the Consulate General of the Kingdom of the Netherlands in Chicago, and the Embassy of the Kingdom of the Netherlands in Washington DC will host a Sustainable Urban Design Summit in an effort to develop creative solutions through a global yet hyperlocal virtual program in partnership with and during the globally recognized Dutch Design Week.
Circular Economy Expert, Author, and Entrepreneur, Guido Braam has focused his career on accelerating the transition toward a circular economy, and inspiring companies to make the step as well. The discussion will focus on his philosophies and learnings around shared ownership and social cohesion as they relate to creating vibrant spaces and communities.
Join us for a fresh discussion between Dutch and Michigan based progressive leaders working to apply sustainable urban design and circular economy applications in architecture, design, policy, development, mobility, materials sourcing, and re-thinking how cities, citizens in them, their social cohesion, and the buildings that occupy space coexist. 
Hear Guido's perspective on the topics on October 19th, 2021. The Sustainable Urban Design Summit will take place virtually over Zoom on October 19th and 21st at 9:30 am EST and 15:30 CET simultaneously.
Register for your FREE space to attend the Summit on Zoom here: sustainableurbandesignsummit.com
---
Guido Braam is an entrepreneur whose professional and personal purpose is to make the current economy more meaningful. To that end, in the last ten years, he has launched several impact-driven companies and established multiple initiatives with the sole aim to accelerate the transition towards a circular economy, and inspire others to do so as well.
Named the 'Circular Hero' of the Netherlands 2021, he's certainly making great strides toward his
purpose. And so is his country. The Netherlands Government recently adopted a charge to be fully circular by 2050, which he said creates opportunities and also raises a lot of questions in doing so within a built environment.
Currently, Braam is the Co-Founder and Director of Powered by Meaning, a portfolio company that has its mind set on transforming the real estate and construction industry into a circular one by renovating obsolete buildings into vibrant community-based places – and sharing ownership.
Through his first-hand experience, Braam has harvested substantial learnings and insights on not only integrating sustainability practices, but this idea of shared ownership, and how it impacts the circular economy.
He says,
within a built environment, the things we clearly consider during the renovation process are what materials we can reuse, what we can repurpose, etc. But in addition to these tangibles, we start looking forward toward post-development … to 'what is the future of this building'? That is a hugely important consideration in creating a strong circular economy.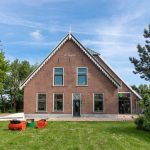 Braam's company redeveloped its first building – a barn named C-Beta, near the Amsterdam airport – in early 2016 to create an event space and a workspace for aspiring artists. He says "We thought a lot about and incorporated – existing materials, wood panels, furniture, and so forth. I also naturally started contemplating the longevity of the building, preserving the structure's value, adding quality materials … I began to feel ownership, and that changed things."
He goes on to say, "today, we see a lot of buildings being redeveloped and then sold. But if the building were to remain under the same ownership, many of the design and development decisions will likely be made differently.  Looking through the filter of ownership creates an important shift in mindset during the design phase. The developer now has the incentive to profit from the decisions being.
Taking this thought process one step further, if the tenants also become shareholders of that asset, they then become incentivized to provide more value. "This is where it gets really interesting," says Braam. "First, the owner/developer creates a building that holds great value structurally, aesthetically, and experientially. Next, the people who live within those walls bring it to life. They make it livable, establish social cohesion, and continually increase its sustainability."
Braam thinks Detroit is getting this concept of social cohesion right.
"That's what I find so interesting about Detroit. Detroit is doing a great job of rebuilding the city with the intention of people meeting. Interacting. Building a community."
Braam points to programming as another key component. The offering of activities for all ages, to bring all kinds of groups together and contribute to the cohesiveness of the community.
He closes with this thought: "In the end, it's people, not the bricks and the wood and the materials that fuel a circular economy. It is living on a daily basis within an environment designed to facilitate sustainability and having the tools and the ability and the intention to do it well."
As always, be sure to subscribe to our newsletter for regular updates on all things Detroit and more.