"One man's trash is another man's treasure," or so goes the old saying. And if you need proof, just ask Debbie Mielewski, the senior technical leader at Ford Motor Co.'s Sustainable Materials Research lab.
The 34-year Ford veteran is a caffeine junkie, she readily admits, but it's not just the warm brown liquid in the mug she carries around the lab that she's addicted to. Teaming up with fast-food giant McDonald's, Mielewski has been working to find ways to use the chaff, the skin of the coffee bean that is normally burned or buried in a landfill. It may show up in your new Ford after being ground up and used in the headlight housing or some other part.
"My whole mission," Mielewski explains, "is to find the stuff that might be burned or buried and find another use for it."
That's a broad mandate, it turns out.
Compared to some, the auto industry is actually quite good at recycling. When your old, 4,000-pound clunker is ready to head off to the junkyard it is likely, in fact, to wind up going through a shredder where the vast majority of its parts and components will be recycled, especially those made out of steel or aluminum. Nonetheless, that leaves around 10%, or about 400 pounds, of various materials – mostly plastics — that normally get sent off to a landfill.
One of the challenges for carmakers like Ford is to find ways to reuse those scraps. It's a challenge, Mielewski acknowledges, because there's often a mix of different types of plastics glued, welded, or otherwise bonded together that can't readily be reused. It's a challenge she and others hope to resolve in the coming years.
Why not switch away from plastics? Because taking weight out of a vehicle is one of the most environmentally friendly steps that can be taken. The traditional rule of thumb has been that every 100 pounds of weight saved are worth roughly a mile a gallon. And, over the life of a typical vehicle, that can add up to a lot of energy savings.
What the Sustainable Materials Lab is primarily focused on is finding materials that can replace the petroleum and natural gas today used to make plastic, substituting things like coffee chaff, wheat straw, and other agricultural wastes.
"It turns out that there are many, many, many sources of raw materials from above ground," Mielewski points out, that can be used instead.
In fact, it's not an entirely new idea. Company founder Henry Ford grew up on a farm outside what was yet to become the Motor City. He was influenced not only by that experience but by the work of George Washington Carver, the most prominent black scientist of the early 20th Century. Carver spent much of his career not only seeking ways to improve agricultural yields but also to find alternative uses for the humble peanut. Ford explored similar applications for soy and hemp.
In 1941, after 12 years of research, Ford showed off a prototype car whose body panels were made of a hemp-based composite. It could also be fueled by hemp or other vegetable oils. To demonstrate its virtues, the aging entrepreneur repeatedly struck a back fender with an ax, leaving barely a ding.
The process was too costly and challenging to put into production – back then, anyway — but the goal is to find ways to use organic substitutes for many of the conventional materials used in today's vehicles.
Ford's program got a big boost when the company put a soy-based part on the 2008 Mustang, following up a year later with storage bins on the Flex utility vehicle made out of a composite that includes wheat straw. Ford now has used organic fibers on a variety of different models, such as the inner door panels on the Escape. Then there are the rice hulls that were used for parts on the last-generation F-150 pickup.
Wood scraps from Weyerhaeuser and International Paper have been used in center consoles, saving about 1.5 million pounds from going into landfills.
One of the lab's current projects teams it up with alcoholic beverage producer Jose Cuervo. The
process of making tequila is a challenging one and, among other things, it results in "an enormous amount blue agave waste." About 15 pounds of the pinas – the heart of the plant – are needed to produce every liter of the familiar Mexican liquor. A current focus is to use the fiber from those spent pinas as part of the plastic compounds used in a car's window mechanism, said Mielewski.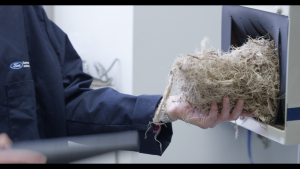 "My dream is to find a use for all (agricultural waste) materials," she said, adding that the good news is that the work underway at the Sustainable Materials Lab is paying off outside Ford. "Once you invent a material, it can be used in other industries," said Mielewski. Some of the compounds emerging from the lab are now being used by John Deere, among others.
Salvaging organic waste isn't the only thing Ford researchers are looking into. They're also seeking ways to recycle more conventional consumer and industrial waste. That includes PET, or polyethylene terephthalate, a thermoplastic that might be sitting in your refrigerator in the form of a soft drink bottle. "Post-consumer" automotive applications for the oh-so-common material include the production of carpets and synthetic suedes, such as the high-demand Alcantara that can command a hefty premium when offered as an option on today's luxury cars.
There's a particularly pressing need to find new applications for the metal, rubber, and other compounds from the tires that are otherwise tossed into landfills by the tens of millions each year. Mielewski's lab helped develop a way to use recycled rubber for engine gaskets.
All told, she told DII, about 15% of the plastic materials going info Ford cars today come from recycled materials, much of that organic waste. She hopes someday to reach the point where "you never need to use petroleum-based products again."
And with Ford investing $11.5 billion to develop new electrified vehicles, such as its new long-range fully electric Mustang Mach-E battery car, we soon may not need to fill up on petro products, either.