80% of the Detroit population is African American, yet until recently, there was not a single Black-owned grocery store in the city. This is a disparity that Malik Yakini is working to rectify and he's starting with the Detroit Black Community Food Security Network and the soon-to-open Detroit People's Food Co-Op.
Yakini is on the board of the Detroit People's Food Co-Op, an African American-led, community-owned grocery cooperative seeking to expand access to healthy foods for predominantly Black and low-income residents and pump investment back into the community –  an area that faces concerns of gentrification and displacement.
He is also the co-founder and executive director of the DBCFSN. He says the Co-Op was part of the network's vision since its inception in 2012 and the idea for the Co-Op grew out of the group's desire to push back against extractive economic practices. "Others have come into Detroit and set up stores and their profits are then used for their own families and communities, not the community they are doing business in."
His goal – and that of the network – is to keep the profits in the community.
Located in Detroit's North End at 8324 Woodward, the store will be collectively owned and governed by its members who pay a one-time fee of $200. In exchange, members receive a vote in board elections, share of future profits, and can run to be board members themselves.
The Co-op model has been leveraged for years as an economically resilient way to build enterprise. In this case – as in many – it offers low- and moderate-income community members who don't have access to capital a means toward ownership and a say in the business.
Yakini wants that, and more from the Detroit People's Food Co-Op.
I hope that the co-op contributes to a different way of thinking about economic development in black communities that have been kept out of the mainstream economy,
said Yakini. "I hope that it is a contributor to a consciousness that prioritizes selective community development."
He also says he simply wants "people to have greater access to fresh healthy food options for people."
The store will create approximately 40 jobs which Yakini says they are prioritizing for community members. "Now we'll have people with income in the area that will then spend that money in the community and it becomes a multiplier effect."
Forecasted to open in February of 2024, the store will offer a full line of groceries including produce sourced from local growers. It will carry value-added products that are produced by local entrepreneurs.
Another important aspect of the Co-Op is educating community members about issues related to the food system, how the food system currently is one of the biggest contributors to global warming, how farming can mitigate impacts, and more.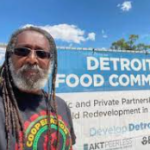 The space will host workshops and lectures by authors on nutrition, food, and educational programming to broaden the understanding of food justice, equity, and sustainability.
Yakini says the store is intentionally located on the east side of Woodward so that it's convenient for people who work in the city but live elsewhere can still shop and take items with them, saying, "We hope people who work downtown will support us by purchasing items to take home."
In this pre-opening stage, the member-owners – of which there are currently 1,958 – make many of the decisions and shape the direction and culture of the store. The member-owners elect six of the nine members of the co-op's board of directors, and DBCFSN appoints the other three.  In June, the board contracted with an interim general manager who was tasked with getting the final pre-opening tasks done, coordinating the opening, and making sure that the store was positioned for success. The board hopes to hire a permanent general manager in the next few months.
As always, be sure to subscribe to our newsletter for regular updates on all things Detroit.