Not every city celebrates its artists, architects, urban planners, and designers by way of a Design Month, or even a Design Week. Detroit does. And this citywide creative explosion is executed in pure Detroit style.
"Detroit is such a special center for design. Our roots in manufacturing and fabricating, our history of design academia and the innate resourcefulness in our culture, combine to create a unique perspective of designing and making of things that's different from anywhere in the world" says Isabelle Weiss, owner of the I.M. Weiss Gallery in Detroit.
Currently, the only U.S. UNESCO-designated Design City, Detroit is a global leader, and the Month of Design festival this month showcases the talent, creativity, and innovation for the 12th year.
Focused on the theme of unity, this year's iteration will seek to uplift interdependence so a more collaborative and accessible world can emerge.
According to Kiana Wenzell, co-executive director of Design Core Detroit, the theme was spawned from the 2021 City of Design Challenge that focused on social cohesion coming out of the pandemic and what ideas products services or systems can help connect us in times of crisis.
Says Wenzell, "Recognizing that we cannot walk this journey called life alone – and that there is a beauty in interdependence – is liberating. Yes, you may be able to go faster alone, but we go farther together. And Detroit exemplifies this. There is so much work being done across interdisciplinary teams to face the challenges in our region."
The festival itself was co-created with Design Core, and the community, with many of the events being independently managed and funded by non-profits, designers and others in the community. This in itself sets the stage for unity and collaboration.
This year celebrates all facets of design — from the urban planning and landscape decisions that frame our cities and lives to the fashion, furniture designers and artists that shape our cultural mindsets and aesthetic sensibilities.
An example of this is Design Jam. Says Wenzell, "This two-day challenge invites participants to prototype new adaptive products for recreational athletes with limb differences. This brings together manufacturers, makers, innovators, designers, students and more.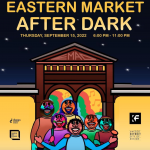 The theme of unity also encompasses storytelling and honoring the past. After a two-year hiatus, Eastern Market After Dark returns thanks to the generous support of the Knight Foundation, converting Shed 2 into the "North End Pavilion" to honor and support the works and stories of Detroit's North End Community. Design Core is partnering with Philip Simpson, Donna Jackson, Bryce Detroit, Reshounn Foster, LaDonna Little, the Underground Music Academy and more on the curation of the North End Pavilion. Throughout the market, additional activities include; the American Institute of Architecture Detroit Chapter's(AIA), the acclaimed Celebration of Architecture in Shed 3, and appearances by d.Cipher, The Detroit Party Marching Band and more.
Says Donna Jackson, artist, designer and strategist,
From a designers perspective, this installation allows us to get out of our heads and connect. To work together with our neighbors. To express ourselves while sharing the history so people understand that our neighborhoods are not just places, but filled with people and emotions and events that make the community what it is today. As a designer being able to work this way and tell these stories … It doesn't get any better than that.
Kiana shares, "Overall we are seeing Detroit united by Design every day, and the Festival shines a light on that. The Avenue of Fashion is a wonderful illustration of this collaborative effort. All of the businesses on Livernois from 6 Mile to 8 Mile are working together to offer art-related activities for all ages to celebrate Detroit art and black-owned businesses."
Detroit Month of Design also shines light on the city's future and emerging talent.
A case in point is Gucci and their "Building a Lasting Impact" exhibition, which highlights the work of the 2022 Gucci Changemaker Scholars, ten of which are Detroiters.
The Gucci Changemakers initiative focuses on young creatives and social change visionaries using their unique perspectives to catalyze lasting social change that improves our shared humanity.
"I'm looking forward to being able to highlight and share the amazing work from these young talents," said Wenzell. The exhibition will be hosted at the Museum of Contemporary Art Detroit (MOCAD).
When asked how Detroit is different than other cities when it comes to design, the varied answers are noteworthy.
"There are so many things that make Detroit unique when it comes to design," said Wenzell.
First is our geographic location. We are surrounded by water, trees, land. Second, we have such a large collection of research and development facilities with product design dedicated to innovation, such as General Motors, Ford, and Whirlpool. Then we have a large collection of colleges close by dedicated to art and design. We have a strong history of advertisers working to take these products to market and tell their stories to consumers. The National Organization of Minority Architects was founded in Detroit. We have the largest number of industrial designers in the nation. These aspects set us up to be a 21st-century city unlike any other.
Weiss shares, "There are so many resources available in Detroit in terms of making. There is also this strong inclination toward resourcefulness. It's part of the Detroit culture. Being savvy and finding any way to fulfill what you want to do is a unique Detroit perspective."
Parker continues,
To be a UNESCO city with this international distinction sets us very clearly apart. From a local perspective, Detroit is a city that's solving problems and that's what design is. We see each other working to find solutions toward an equitable, inclusive, community. We are doing this all the time, and the Month of Design lets us do a deeper dive and highlight all of this for the world to see.
This year includes 175 participants, 14 experiences, 74 events, 10 installations, 18 exhibitions, eight tours, talks and workshops. You can see the full lineup of events here.
As always, be sure to subscribe to our newsletter for regular updates on all things Detroit and more.