Larry Mongo's outrage at being denied entry to a nightclub prompted him to start his own. In 1985, he and his wife Dianne purchased a Greek restaurant in Detroit, converted it and opened as Café Joseph, named after a gay friend who had experienced similar discrimination. The speakeasy eventually became Café D'Mongo's. (The "D" is a nod to Dianne's contributions to the bar.) For a time in the 1990s, it became known as Wax Fruit Rhythm Café, featuring young performers like Eminem and Proof. Then, Mongo shuttered the club for about twelve years due to crime in the area. He reopened the doors in 2007 and it's remained strong since.
The speakeasy is one of downtown's most iconic bars, and Mongo has played host to celebrities, gangsters, politicians, pro athletes and more. He's certainly seen and played a hand in what has shaped Detroit to what it is today. He shares with us here his favorites and his discoveries in the city.
LD: Wright & Co.
DII: Lafayette National Coney Island or American?
LD: Lafayette
DII: You find yourself with a free Saturday afternoon and want to spend it roaming around the city – what places will you hit?
LD: Eastern Market, then I drive around the old Neighborhoods of Detroit and try to figure out which one will be the next Neighborhood to be Pollinated by the Pollinators. (Pollinators are young people who move into old rundown areas, rebuild and bring viable life back to the area)
DII: Best place to get a cup of coffee?
LD: Cannelle
DII: What's your favorite new discovery in the city over the past year?
LD: Spectacles clothing store for men and women. Owner, Zana Smith and I go way back. She has a gift of knowing the next upcoming hot spot. Spectacles is in Haromonie Park and Zana has created a unique and charming boutique that's a must see.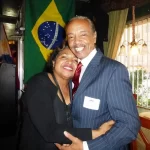 DII: What's the most under-rated spot that deserves more visibility?
LD: Tenacity
DII: You have an hour to go for a stroll – where will you go?
LD: The Parks in Lafayette and Elmwood Parks. 
DII: What do you treasure most about the city?
LD: The peaceful reintegration of the comeback of Detroit, there are pockets of mumbles but the peaceful reintegration is nothing like the History of past integration. So I give Detroit and the Citizens a Gold Medal plus a shout-out to Mayor Duggan for his outstanding leadership of this great City.
As always, be sure to subscribe to our newsletter for regular updates on all things Detroit and more.