Just days before their seventh-anniversary event, I had the opportunity to tour the historic whiskey factory in downtown Detroit, home to Detroit City Distillery, which has been operating out of Eastern Market for seven years. DCD creates small-batch artisanal whiskey, gin, and vodka. After setting up a tasting room and bar they soon expanded to the Old Stroh's Factory where they currently produce their spirits. Detroit City Distillery is truly a local company where everything is Michigan sourced from bottles to barrels, all made from the finest local ingredients and sourced directly from farms near the historic location.
Although DCD makes all types of alcohol, they pride themselves on making award-winning Bourbon. I was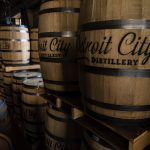 given a private tour and tasting where they premiered a new maple Bourbon. While their popular 4-grain straight Bourbon is made with corn, barley, rye, and wheat, the maple Bourbon is sweeter with notes of apple and pear and is aged for three years in a maple-lined barrel. With a quantity of only 250 bottles, this will be a rare bottle of Bourbon to get as it was completely sold out as of the anniversary event.
I was intrigued by the factory's history, specifically dating back to the era of prohibition. The Whiskey factory was a long-dormant building. It is the last remaining historic structure at the site that largely defined Detroit's brewing legacy. Brewing at the site goes as far back as the 1930's when Goebel Brewing Company built a massive brewery to compete with Stroh's brewery, Detroit's largest brewery at the time. The breweries were located directly across the street from one another. Shortly after Stroh's acquired Goebel's in the 1960s, the building was converted to a factory where Stroh's Ice Cream was produced—a successful business created out of necessity during the days of Prohibition, as producing alcohol was illegal. Tours are open to the public with a reservation and the factory also serves as an event space where they host mostly weddings and receptions.
With the distillery, DCD is able to experiment and make exclusive batches of Bourbon. Each batch is scheduled to drop on the first Friday of each month on a first-come, first-serve basis. The next limited edition bottle to be served is the Wine Barrel Bourbon. 240 bottles will be available for purchase. Owner Micheal Forsyth says, "When you make whiskey from scratch, you're working on it for years before you get to share it with the world. The addition of Four Grain Straight Bourbon represents everything we love about making whiskey."
Be sure to grab a bottle before it's gone at one of DCD's next signature bottle releases.
All photos @Katai
Make sure to check out all the other things to do on the Detroitisit It List!