Making an impact on sustainability in Detroit can look many different ways, and for Amy Peterson, co-owner of Rebel Nell and the Congregation, it has many different layers.
She didn't set out to make a "sustainability impact" per se, she began her career as a professional woman in professional sports. But in 2013 she bunted, changed gears, and set out to provide opportunities for women in her neighborhood with employment barriers.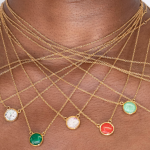 Nearly ten years later Rebel Nell has clocked 117,000 workforce development hours, increased the financial status of its employees significantly, donated $100,000 to community partners, and become a thriving business that has hired 41 women out of shelter living     .
Rebel Nell's mission is to provide employment, equitable opportunity, and wraparound support for women who have been faced with homelessness, who are returning citizens, refugees seeking asylum and awaiting citizenship, LGBTQIA, women living with mental illnesses, and women with physical disabilities. These women are hired as Creative Designers and are educated in jewelry design, customer service, and many other transferable workforce skills.
So, how did a professional sports career shift to a commitment and career toward social justice?
Originally from Jamestown, New York, it was Peterson's lifelong dream to work for a professional baseball team. After graduating from law school at New England School of Law she began applying for teams. A lot of them. She says for every rejection letter she received, she sent out three more resumes. This persistence led her to Detroit where she worked for the Detroit Tigers for eleven years, starting as an intern and eventually becoming    the first-ever female associate counsel.
During that time, Peterson lived next to a women's shelter. She says, "I would come home from work and talk to these women who left challenging situations at home to pursue better lives but were still having trouble finding employment."
Frustrated with her career being a woman in sports, she decided to start a company dedicated to empowering women.
When asked how her background informs who she is today, she said, "I love what I do and it's a blessing but running a small business has its challenges. But I tend to be somebody who sinks my teeth in and stays with it. As a child, I was a competitive ice skater, and I guess I learned early in life that when you fall you get back up and that has stayed with me forever."
Now, she's utilizing repurposed materials that literally come from the revitalization of Detroit to help women who have fallen down find hope and revitalization of their own.
When asked about how sustainability plays a factor in what she does, Peterson says, "I want to live in a more compassionate world. I want my son to grow up in a world that's more understanding and inclusive and the only way to do that is to take a look in the mirror and go out and put one foot in front of the other."
In addition to giving women employment opportunities, Rebel Nell uses its profits to support financial training, career education and mental health programs. She is a Co-Founder of Teach, Empower, Achieve (T.E.A.) and she is also a board member of the GreenLight Fund and EntryPoint.
And on top of all of that, Peterson is co-owner of The Congregation, a café, and bar housed in a hundred-year-old church located in the historic Boston Edison – Atkinson neighborhood.
About this endeavor, Peterson says
Our neighborhood is great, but it became evident that we did not have a community space to gather. I was in love with the abandoned building – the church near my house – and kept trying to track down its owner. I even slid notes under the door.
Finally, Peterson was driving by and saw the door open and a man inside. "I had my six-month-old son in the car. I stopped, took my son in and asked if I could buy the building."
There was interest.
Peterson then wrote a letter to the church committee outlining the vision for the space as a place for people to truly congregate, and the committee was fully on board.
For three and half years, restoration to maintain and restore all the original stained glass and the original maple wood flooring took place and it opened on March 6      2020, nine days before a global pandemic shut the world down.
Peterson and her partners work to activate the space so that there is something for everyone. They also use Michigan-based food and highlight local vendors and entrepreneurs. "We had multiple community meetings to make sure the space was attractive to our neighbors," she said. "We wanted to turn it into a place that our community loves."
When asked about the impact the work she's doing has on Detroit, Peterson says, "I want to leave the world a bit better and if it's just my street corner, that's all right. I think Rebel Nell is moving the needle however, the true impact is on the generation that's not born yet."
As always, be sure to subscribe to our newsletter for regular updates on all things Detroit.