When you step into 901 West Lafayette it's hard to identify the wildly varied sensations and impressions that embrace you. Sensory overload does not even begin to describe it.
It's a mix of being overawed, and flabbergasted, and it's all-encompassing. It's a step back in time. The old wood floor creaks beneath your feet as you walk up a handful of stairs. At first, it's difficult to navigate where to go, but the small and comfortably cluttered entrance to the left leads you in.
You walk into a literal maze of packed shelves with hand-written descriptions of what's on them. It's a sea of colors. Someone in a red apron with a walkie-talkie and arms full works to hand you a map and smiles at you.
And then you smell it. It's welcoming. Comforting. There is a name for that smell.  It's bibliosmia. The warm and endearing smell of old books. Some of us may be too young to recognize the scent given our digital world, but once you sense it, it doesn't leave you.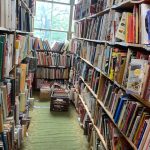 And then maybe if you are lucky, you see him. Disheveled perhaps from loading and unloading trucks. Welcoming people in. Moving on to the next thing. Always moving and working and it's evident that this is his passion. It's his labor of love.
This man is John K. King, and this is his bookstore. Globally, it's one of the biggest – if not the biggest – used and rare bookstores. Repeatedly it's been voted one of the top bookstores in the world by numerous publications including Business Insider and CNN.
If you have not been, go. This article cannot do the justice of experiencing it in person.
Here, there are over a million books encompassing 900 categories, spread over four expansive floors.
An adjacent building – that at one time was the Otis Elevator Building, the world's largest elevator company – has a collection of rarer and notable items available for viewing by appointment only.
John K. King started in the book industry as a teenager, selling books out of his 1954 Packard.
He has loved books all his life, saying, "Growing up there were several bookstores in Detroit and I would hang out in them. It was fascinating to me to be able to touch and read books that were over 100 years old. It inspired me."
In 1965 he established a store of his own in Dearborn because he couldn't find a space that worked in Detroit. But in 1971 he moved the store to the Michigan Theatre in downtown Detroit where he would grow the business for the next twelve years.
In 1983 King purchased the building he's in today – then having been abandoned by the Advance Glove factory.
An interesting anecdote – in 1947 the building was moved about 500 feet to accommodate the construction of the expressway it now sits on.
When asked how the store has changed over the past forty years, King says, "It is the exact same as it was on day one. Nothing has changed except we now have more books. It has spread," he says with a smile.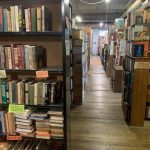 About the location, King says, "As a kid, I had always dreamed of having a bookstore on Woodward Avenue. Thank goodness I didn't end up there. I now have a destination location and I am good with that."
And many people make the store their destination. They get about 100+ patrons a day and on the weekend that is multiplied and the staff sometimes find themselves outside parking cars. Says King about their customers, "The store is for everyone. We have billionaires come in and we have homeless people come in. We typically have books in the lobby that we give away as well."
The store has pulled in its share of local politicians and celebrities as well, including Mayor Duggan, Lt. Gov. Garlin Gilchrist, Sonny Elliot, Frank Zappa, Martin Sheen, Bob Talbert, Jay Leno, and more.
In fact, King tells me as we stroll through the store and come up on a display that holds part of a meteor (of all things – King collects artifacts and art and things as makes his way around the country collecting books) that at one point, Ryan Gosling was laying on the floor right there reading and Eva Mendes hugged and kissed the meteor. "It was right after that that she got pregnant," he says with a wink.
And it's not just King that is fueled by a passion to work so hard here. His staff are an amazingly dedicated crew as well.
Deborah Lee, the store manager, has been working with John for 28 years. She says, "I was working all the time in another career and going through life changes and getting burned out. So I walked into John's store and asked for a job."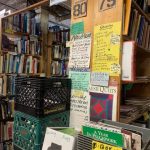 She tells me she would come in on her days off and watch John work and he taught her the business of books.
Clearly, she loves it, saying, "There are things to discover and rediscover here. Books tie generations together and tie people to each other. I just love the product."
In terms of rare books, King tells me he's sold a Curtis North American Indian set for $1.5 million and currently has a leaf from the Gutenberg Bible priced at $150,000. When asked what he thinks is the most rare thing in the store though, instead of citing a book or an item, he answers "The people. It takes a special person to shop here. And special people to work here."
In closing, I asked King what his end game is and if he will retire at some point. His response? "I don't know. And it's not that I fear it. I just have very little time to think about it because I'm so busy. I guess I'd retire if I was hit by a bus."
Again – if you have not been to the store, make it a destination. It is certainly an adventure and absolutely worth it.