The book is closing in on 2021. Is it really a new year if "staying fit" isn't a goal? January tends to be when people are most motivated to attain their new health goals. Though winter is also when people bundle up inside. Staying fit in the winter in Detroit is worth the chill! Besides, the COVID-19 ups and downs have put a damper on gym visits. How to stay fit this winter is a popular question. With the limited sunlight, it's doubly important to stay active and spend time outdoors.
Brave this winter beyond your yard. Detroit is home to paths, greenways, and outdoor activities to help you see more of the city while reaching your goals. Winter in the midwest pretty much extends from January-February and even march, which means there are also plenty of festive events to entice you to enjoy the holidays in Detroit. You don't have to buy to spend money on a gym membership. Embrace the cold and head out to the Dequindre Cut, River Walk, or Belle Isle.
Stay fit this winter by getting lost in Detroit's best paths. At-home workouts are a great way to stay on track with fitness goals, but nothing beats the brisk air and beauty of Detroit.
BELLE ISLE
Detroiters are loyal explorers of Belle Isle. Who wouldn't be with its 982 acres with plenty of room to hike, bike, run, walk, and more. Belle Isle gives Detroiters the ability to explore outdoors, offering 982 acres with plenty of room to hike, bike, run, walk, and more. At Belle Isle, you can soak in the rich history and natural beauty of the park while taking steps to achieve your goals and stay fit this winter. Belle Isle is open daily from 5 a.m. – 10 p.m. and is located at 99 Pleasure Drive, Detroit, MI 48207.
DEQUINDRE CUT
Staying fit is even better when you hardly have to travel. The Dequindre Cut Greenway, a two-mile recreational path offers a pedestrian link between the East Riverfront, Eastern Market, and several residential neighborhoods in between. Discover the urban artwork and graffiti and alongside the greenway that features a 20-foot-wide paved pathway, which includes separate lanes for pedestrian and bicycle traffic. Grab a walking buddy and take a different route in 2022. Click HERE for more info on different ways to access the trail.
RIVER ROUGE PARK
Visit Detroit's largest park! At 1180 acres, River Rouge Park is the perfect place to focus on your fitness routine. River Rouge Park has 7 miles of paved pathways throughout the park as well as many trails. Check out Scout Hollow Nature Trail, MCMBA Mountain Bike Trail, Sorensen Trail, Prairie Pathway, and the Joe Prance Nature Trail. River Rouge Park is located on the west side of Detroit and stretches 2-1/2 miles north to south between Warren Ave. For map and trail info. from the Friends of Rouge Park, click HERE.
DETROIT RIVERWALK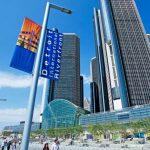 Miss the gorgeous fall colors easing down The Detroit International RiverWalk during the fall? The winter is a lovely time to breathe in the beautiful nature! More than three miles, from Rose Parks Blvd. to the Belle Isle Bridge, this is a great common Detroit spot to hit for those wondering how to stay fit this winter. Aside from taking a walk or bike ride on the Detroit Riverwalk, take in the site of new Detroit developments. Nature and family fun sum up this site. Access The River Walk at the GM Plaza and Promenade on the riverfront at the Renaissance Center.
MOGO
MoGo is a nonprofit bike share system with 620 bikes at 75 stations across 10 neighborhoods in the greater downtown area of Detroit as well as Northwest Detroit, Ferndale, Oak Park, Huntington Woods, Berkley, and Royal Oak. Looking for more excitement to add to your outdoor winter activities? Explore more of the city you know and love in a more unique way. Feet to the pavement isn't the only way. Get your fitness on when the weather isn't showing snow all day or week. Enjoy a serene cycle through the city of Detroit. Click HERE  to hop on the ride.
As always, be sure to subscribe to our newsletter for regular updates on all things Detroit and more.