6 Concerts You Must See This Week is a roundup of some of the best shows in the city, and this week we're featuring our top 6 concerts for Feb 17 – Feb 23. Check back with us every week for the hottest shows and the greatest venues!
---
1. TOVE LO
Tuesday, February 17
Saint Andrew's Hall (Image: Facebook Event)
"Crafting a raw, confessional brand of pop shaped by her love of grunge as well as the pristine sounds of her Swedish homeland,
Tove Lo
is an award-winning performer and Grammy-nominated songwriter. The way her 2013 single 'Habits (Stay High)' swung between joy and despair and frankly depicted drug use and sex made it a distinctive, relatable, multi-platinum hit and a fitting introduction to her uncensored style. She followed it with more uninhibited, autobiographical music: Her 2014 debut album
Queen of the Clouds
 and 2016's 
Lady Wood
 upheld her reputation for confronting the darker side of love and relationships with thoughtful, provocative, and catchy songwriting. On 2019's 
Sunshine Kitty
, she took a slightly more lighthearted approach without losing any of her edge or candor. 
Lo
 also established herself as an in-demand collaborator by working with the likes of 
Coldplay
, 
Charli XCX
, and 
Nick Jonas
; as a songwriter, her credits include songs for 
Lorde
 and 
Icona Pop
, as well as 
Ellie Goulding
's Grammy-nominated hit 'Love Me Like You Do.'" –
AllMusic.com Biography
---
2. SANGO
Wednesday, February 19
El Club (Image: Facebook Event)
"
Kai "Sango" Wright
 refers to his productions simply as beats, leaving the classification of his stylistically variable output — which has drawn from contemporary R&B and hip-hop styles, non-commercial dubstep, funk carioca, and downtempo electronica — to the listener. 
Wright
 was born in Washington state but spent a good portion of his childhood in Grand Rapids, Michigan prior to attending college 50 miles south at Western Michigan University. When 
Wright
 graduated with a Bachelor of Fine Arts' degree in graphic design, his number of short-form releases was already in double digits, and he had the support of Soulection, which had issued his 2013 set North. Additionally, 
Wright
 had begun flirting with the mainstream by co-producing "Cold Sweat" for 
Tinashe
's Top 20 2014 hit 
Aquarius
, and contributed to "The Sequence," off 
Bryson Tiller
's 
T R A P S O U L
, a Top 20 entry during the fall of 2015. 
Wright
's own releases continued to flow after he moved back to Seattle. Among the titles were 2016's Hours Spent Loving You (a collaboration with 
Xavier Omar
) and 2017's 
De Mim, Pra Você
, both of which were self-released." –
AllMusic.com Biography
---
3. SAINT MOTEL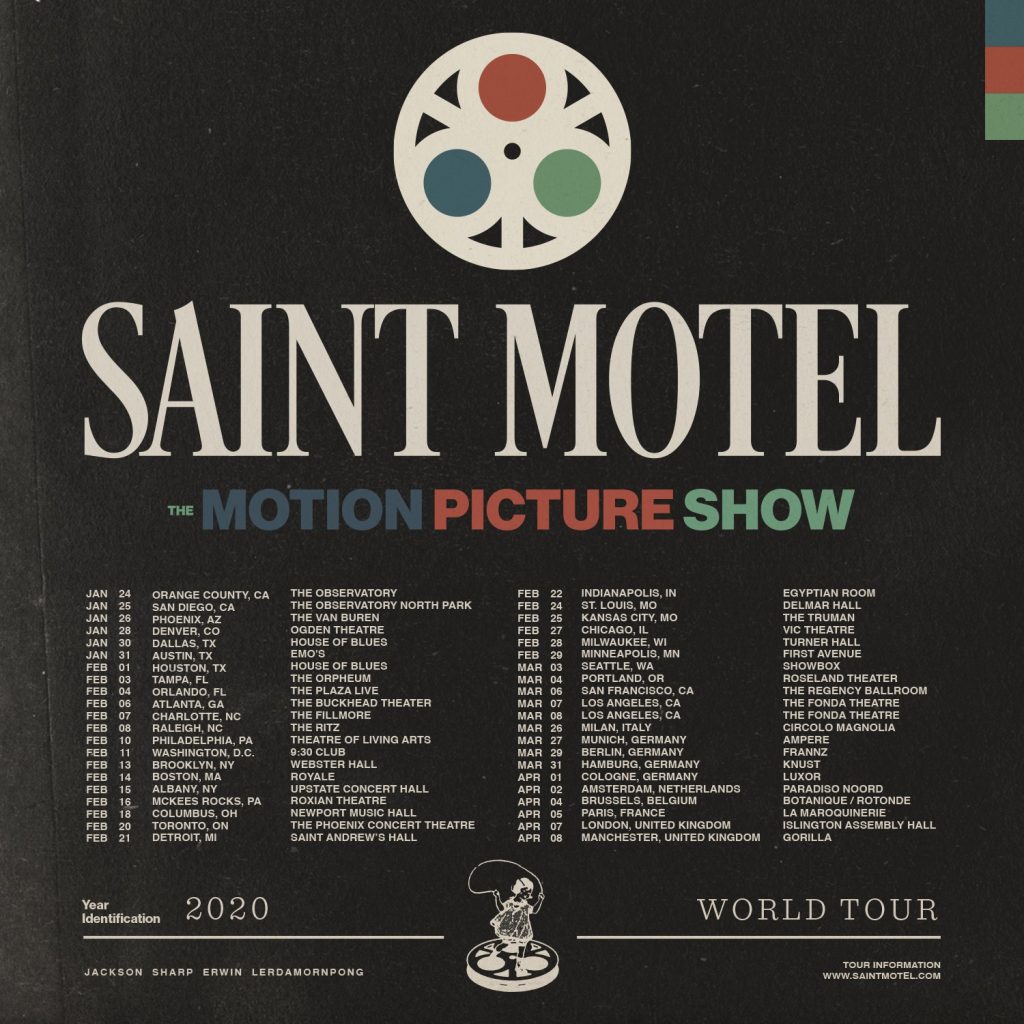 Friday, February 21
Saint Andrew's Hall (Image: Facebook Event)
"California indie pop band Saint Motel was formed in 2007 by pianist/vocalist A.J. Jackson and classically trained guitarist Aaron Sharp, who met when they were both film students at Chapman University in Orange, California. Recruiting bassist Dak Lerdamornpong, who worked at a nearby sushi restaurant, and drummer Greg Erwin, who attended another nearby college, they started writing music together, crafting a slick, bouncy, retro, tropicalia-influenced sound that was the perfect foil to Jackson's smooth, suave croon." – AllMusic.com Biography
---
4. CHRIS LANE 
Saturday, February 22
The Fillmore Detroit (Image: Facebook Event)
"Part of a wave of contemporary country singers who rode the R&B-friendly wake left by Sam Hunt in 2014, Chris Lane specialized in smooth yet lively love songs. He had roots in bro country — his first major supporting tour was with Florida Georgia Line in 2014 — and played effervescent country-pop tunes, but by the time he released his full-length major-label debut Girl Problems in 2016, he lightly emphasized a softer touch, as evidenced by the singles "Let Me Love You" and "For Her."' – AllMusic.com Biography
---
5. NOIZU
Saturday, February 22
Magic Stick (Image: Facebook Event)
"Los Angeles based Noizu is quickly climbing through the ranks of house music. Making his debut on the Chris Lake and Skrillex curated 'HOWSLA' in 2017 with 'Lasers' before catching the eyes and ears of French label boss Tchami. His follow up release saw the Jungle EP, an instant live anthem supported by Diplo, Oliver Heldens, A-Trak, Jauz, Malaa and more.
2018 started with singles 'LFO' and 'Wavey', gaining huge support from Sirius / Diplo Revolution. The latter in particular receiving over 200 plays.
Noizu's first official remix came when he was asked by DJ Snake himself to tackle his Lauv featured smash 'A Different Way', which boasts over 4.8M Spotify streams at present." – Insomniac.com Biography

---
6. LIL TJAY
Sunday, February 23
Saint Andrew's Hall (Image from Facebook Event)
"While in prison on robbery charges, New York rapper
Lil Tjay
 found the motivation to get through his sentence by writing lyrics. Upon his release in 2017, 
Tjay
, still just a teenager, began recording his songs and posting them online. Almost overnight, several tracks took off and were being streamed in the millions, gaining the rapper massive attention for his often-downcast songs that combined vocal hooks and rhymes about hardship written while he was in jail." –
AllMusic.com Biography
---
Check back with us every week for the hottest concerts and the greatest venues! Have a show tip? Hit up Detroitsit on Social Media!