6 Concerts You Must See This Week is a roundup of some of the best shows in the city, and this week we're featuring our top 6 concerts for Feb 10 – Feb 16. Check back with us every week for the hottest shows and the greatest venues!
---
1. SHWAYZE
Tuesday, February 11
The Magic Bag (Image: Facebook Event)
"The King Of Summer returns to the Magic Bag on Tuesday, February 11 – Stop by the club for a Corona and Lime, and some cool music as well. Shwayze lights up the Bag with a night of funky tunes and phat jams to put your mind in the groove. The doors open at 8pm and tickets are $18 in advance." –
Facebook Event
---
2. SOUL ASYLUM / LOCAL H
Wednesday, February 12
Saint Andrew's Hall (Image: Facebook Event)
"Soul Asylum initially formed in the early '80s under the name Loud Fast Rules when vocalist/guitarist Dave Pirner was still in high school, cutting their teeth
as part of the celebrated Minneapolis local music scene. The band entered the major-label mainstream with 1988's Hang Time and its 1990 follow-up, And the Horse They Rode In On, before achieving a commercial breakthrough with 1992's triple platinum Grave Dancers Union. That album spawned several international hits, including "Runaway Train," which won a Grammy Award for Best Rock Song, and "Black Gold," and made Soul Asylum alternative radio and MTV staples. In the ensuing decades, the band—which also includes drummer Michael Bland, lead guitarist Ryan Smith and bassist Winston Roye—has released a steady stream of albums, including 2020's Hurry Up And Wait. The latter reflects Soul Asylum's usual eclectic approach: thrashing songs indebted to punk ("Hopped Up Feelin'") and classic rock ("Got It Pretty Good"), folk-influenced pop-rock ("Silly Things"), and gorgeous jangle-pop (lead single "If I Told You")." – Soul Asylum Facebook Biography
---
3. TRIPPIE REDD
Friday, February 14
The Fillmore (Image: Facebook Event)
"Originally from Canton, Ohio, rapper Trippie Redd emerged in 2015 with a series of online tracks that hinted at the versatile style he came to develop, one that blended elements of cloud rap, emo rap, and trap influenced by T-Pain, Gucci Mane, and Lil Wayne with the energy of punk and metal inspired by Kiss and Marilyn Manson." – Trippie Redd AllMusic.com Biography
---
4. EMO NIGHT BROOKLYN
Saturday, February 15
Saint Andrew's Hall (Image: Facebook Event)
"Welcome to Emo Night Brooklyn, the best night of your life, where we throw massive parties around the world to celebrate Emo and Pop Punk music. Join us on February 15th in Detroit as we rage to all of our favorite songs with our favorite people. We may even invite some special guests from some of our favorite bands to join us 🙂 . Plenty of surprises to come, grab your tickets before they're gone at bit.ly/ENBxDETROITtix." – Facebook Event
---
5. CHRISTIAN MARTIN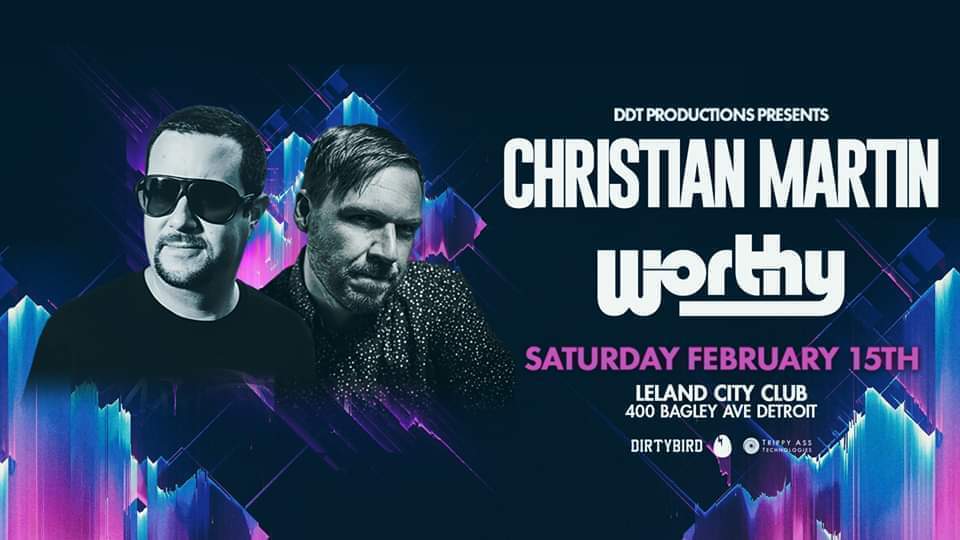 Friday, February 7
Leland City Club (Image: Facebook Event)
"Ddt Productions present:
CHRISTIAN MARTIN
(dirtybird, trippy ass technologies)
www.facebook.com/christianmartinmusic
WORTHY
(dirtybird, anabatic)
www.facebook.com/worthysf
Local Heat:
Jesse James
Plus Size Models
Johnny Malek
FOOD FIGHT
Kent Clark
Bluthundrrdisco
Moon Child
Doors Open 10pm
18+ (valid id required)
acceptable forms of identification:
valid drivers license, valid non driver id from sos, or valid passport.
paper temp id from sos is only accepted if presented with expired drivers licence or expired non driver from sos.
Tickets:
advance: www.brownpapertickets.com/event/4500287
tix available at door (cash/card)
LELAND CITY CLUB
400 bagley ave detroit
*enter event through the front/hotel entrance*" – Facebook Event

---
6. WHITNEY
Saturday, February 15
The Majestic (Image from Facebook Event)
---
Check back with us every week for the hottest concerts and the greatest venues! Have a show tip? Hit up Detroitsit on Social Media!