6 Concerts You Must See This Week is a roundup of some of the best shows in the city, and this week we're featuring our top 6 concerts for Feb 3 – Feb 9. Check back with us every week for the hottest shows and the greatest venues!
---
1. THE USED
Tuesday, February 4
St. Andrew's Hall (Image: Facebook Event)
"The members of
the Used
 had to overcome poverty, homelessness, and substance abuse, not to mention the straitlaced attitudes of their hometown of Orem, Utah, to bring their screamo-tinged brand of post-hardcore to life. But they persevered and earned a contract with Reprise Records, releasing their self-titled debut album in June 2002. Having only played a handful of shows around Orem prior to their record's release, the band — vocalist 
Bert McCracken
, guitarist 
Quinn Allman
, bassist Jeph Howard, and drummer 
Branden Steineckert
 — began relentless nationwide touring that quickly saw their fan base multiply. Club dates soon turned into successful stints on larger-scale festival/package tours including the Warped Tour, Ozzfest, and Projekt Revolution alongside 
Linkin Park
 and 
Snoop Dogg
. In the summer of 2003, 
the Used
 issued the introspective CD/DVD 
Maybe Memories
, which contained unreleased songs, live material, behind-the-scenes footage, and more." –
The Used AllMusic.com Biography
---
2. BONE THUGS-N-HARMONY
Thursday, February 6
Motor City Soundboard (Image: Facebook Event)
"Bone Thugs-n-Harmony is an American hip hop group from the Glenville section of Cleveland, Ohio. They are best known for their fast-paced rapping style and harm
onizing vocals. In 1997, the group was awarded the Grammy Award for Best Rap Performance with their song "Tha Crossroads". Since its conception in the early 1990s the group has been honored with numerous other awards. Bone Thugs are also the only artist to do acts with Eazy-E, 2Pac, Notorious B.I.G., and Big Pun. Bone Thugs-N-Harmony are also recognized as one of the most successful hip-hop groups selling 50 million records." – Bone Thugs-N-Harmony Facebook Biography
---
3. CLAUDE VONSTROKE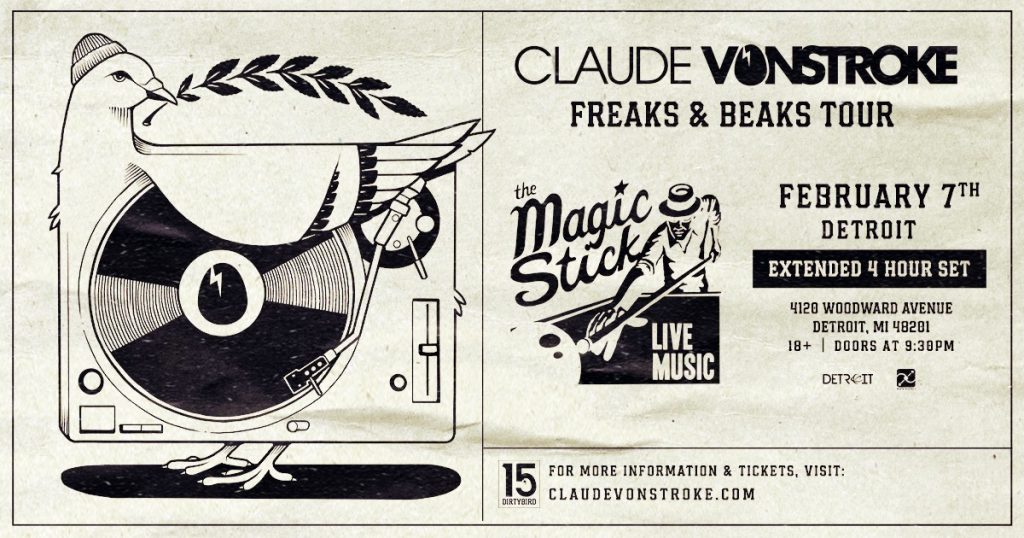 Friday, February 7
Magic Stick (Image: Facebook Event)
"In this day and age of music cross-polination, Claude VonStroke sits at the forefront of all that is good, proper and most importantly, fun. VonStroke is just as relaxed in his home studio building beats as he is dropping massive underground records in a room filled by thousands. DJ-wise, his relentless touring of every major city, festival and basement after-party around the world has only enriched his unique perspective on music." – Claude VonStroke Facebook Event
---
4. SLEEPING WITH SIRENS, SET IT OFF
Friday, February 7
The Crofoot (Image: Facebook Event)
"Falling on the more melodic side of the post-hardcore world, Florida's Sleeping with Sirens create a whirlwind of emotion with their yearning and aggressive blend of metal and emo influences. Formed in 2009, Sleeping with Sirens — featuring vocalist Kellin Quinn, guitarists Jack Fowler and Jesse Lawson, bassist Justin Hills, and drummer Gabe Barham — quickly caught the attention of metalcore label Rise Records, which signed them and released their debut record, With Ears to See, And Eyes to Hear, in 2010." – Sleeping With Sirens AllMusic.com Biography
---
5. THE LUMINEERS
Friday, February 7
Little Caesars Arena (Image: Facebook Event)
"Denver, Colorado's The Lumineers released their eponymous debut album through Nashville's Dualtone in 2012. The triple platinum album garnered two GRAMMY nominations and spawned the chart-topping platinum singles, "Ho Hey" and "Stubborn Love". The band also served as Saturday Night Live's musical guest on January 19, 2013." – The Lumineers Facebook Biography

---
6. THE VERVE PIPE
Saturday, February 8
St. Andrew's Hall (Image from Facebook Event)
---
BONUS:  RODDY RICCH
Sunday, February 9
St. Andrew's Hall (Image from Facebook Event)
"Rising from the streets of Compton but with a distinct Southern flair, rapper Roddy Ricch lays his introspective rhymes atop melodic trap, resulting in a hybrid form that has captured the ears of both regions. The MC broke through in 2018 with the platinum single "Die Young" and topped the Billboard 200 the next year with Please Excuse Me for Being Antisocial." – Roddy Ricch AllMusic.com Biography
---
Check back with us every week for the hottest concerts and the greatest venues! Have a show tip? Hit up Detroitsit on Social Media!