The highly anticipated Mackinac Policy Conference 2023, organized by the Detroit Regional Chamber, recently concluded, bringing together leaders from various sectors to discuss and shape the future of Michigan.  
The conference, held from June 4 to June 7, 2023, at the Grand Hotel on Mackinac Island, was a platform for insightful discussions, debates, and innovative ideas. The The 2023 Conference theme focused on "the Power of &," and it did deliver. 
Here's a closer look at the highlights of this year's conference. 
Conference Opener:
The 2023 Mackinac Policy Conference opened on Wednesday, May 31, in the Grand Hotel's Theatre with remarks from the Detroit Regional Chamber's President and Chief Executive Officer, Sandy K. Baruah, to explain more about this year's Conference theme, which encourages an "and" approach to create a healthy, productive tension among leaders with different points of view.  
Matt Elliott, Michigan President of Bank of America and this year's Conference Chair, shared his perspective on the theme and reflected on his experience in that role.  
Following Elliott, Gov. Gretchen Whitmer took the stage to delve further into the concept of "The Power of &" and highlighted the state's recent accomplishments. 
Watch the conference open here. 
Policy Discussions: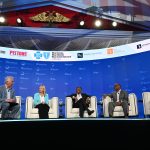 Throughout the conference, attendees had the opportunity to participate in a wide range of policy discussions and workshops, covering topics such as economic development, healthcare, education, and infrastructure.
These sessions brought together government officials like Governor Gretchen Whitmer, Mayor Mike Duggan, business leaders, educators, and community advocates to exchange ideas, share best practices, and explore collaborative solutions. 
One of the key discussions centered around revitalizing Michigan's manufacturing sector and adapting it to the changing global landscape.
Panelists emphasized the need to embrace advanced manufacturing technologies, invest in workforce training, and promote sustainability to remain competitive in the international market.
Every Entrepreneurs Dream, Mark Cuban:
You may recognize Cuban from the popular TV show "Shark Tank." This shark refreshed the stage on Day 2 at the Mackinac Policy Conference, in conversation with KC Crain. He shared three main takeaways: 1) Match business representation with customer demographics, 2) Embrace AI ahead of competitors, 3) Act on entrepreneurial ideas proactively. 
"I learned a lot of lessons on what not to do," Cuban told moderator KC Crain, President and Chief Executive Officer of Crain Communications. 
Watch their conversation here. 
Former U.S. Representative, Liz Cheney,
Spoke on the stage highlighting Washington's dynamics. She and Devin Scillian, Anchor WDIV-TV, 4, NBC spoke on the debt ceiling, Congress's role in the government, Cheney's potential run as a third-party candidate, and her perspective on Donald Trump.  
Watch their conversation here.  
A Conversation with Richard Florida on How Cities Will Drive Michigan's Revival:
Panelists included: Richard Florida, Founder, The Creative Class Group; Anika Goss, Chief Executive Officer, Detroit Future City; Moderator: Rip Rapson, President, and Chief Executive Officer, The Kresge Foundation. The conversation revolved around how investments in cities can build on Michigan's competitive strengths, but will that be enough to make or break the state's ability to maintain its population, attract new residents, and grow the talent base. The conversation also revolved around the challenge of pulling together the public, private, and civic and making the most happen from that coalition. Anika comments that one of the main reason that we still can't move forward in Southeast Michigan is that we are still divided and the perception around that.  
Watch their conversation here. 
Networking and Collaboration:
The Mackinac Policy Conference is prime opportunity for networking opportunities, and this year was no exception. Attendees had the chance to connect with peers, establish new partnerships, and strengthen existing relationships.
From informal conversations during breaks to structured networking events, participants engaged in meaningful exchanges that fostered collaboration and laid the groundwork for future initiatives.  
---
For more information and detailed coverage of the Mackinac Policy Conference 2023, please visit the Detroit Regional Chamber's conference's official website. 
As always, be sure to subscribe to our newsletter for regular updates on all things Detroit and more.