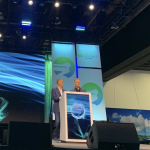 The Detroit Auto Show – one of the most influential annual automotive events in the world – is upon us. Automakers from around the globe are gathered in Detroit – back for the second year in the September timeslot and the thirty-second time overall – and the show looks very different than it did twelve months ago.
While the giant outdoor inflatable duck and dinosaurs are absent, this year's event boasts a robust and highly focused lineup of cars, collaboration, and performance, including a new two-day Mobility Forum with 30+ thought leaders and CEOs in mobility, design and technology, an all-new indoor EV Track featuring a 300-foot acceleration lane, more than double the car manufacturers, globally recognized speakers and entertainment and more.
Thad Szott, the Chair of the show, opened the Show Welcome on Wednesday, September 13 by saying, "I think we have a really badass show here!"
Rod Alberts, Executive Director of the show followed that saying, "The future of mobility is here at this show for all to see, with Detroit as its backdrop which is unmatchable."
Szott and the committee were expecting 35 brands at the show – and 38 showed up.
We have 38 manufacturers, and most are executing product unveils," said Szott. "With all of these brands present, there is a huge wow factor when you walk into Huntington Place and I think people will be surprised and excited about the volume of products they can check out first-hand, in very interactive ways.
Due to the sheer number of brands, and also feedback and learnings from last year's event, the show will focus more on the vehicles, product reveals, and focused activations inside Huntington Place and offer less outdoor entertainment.
"Because of the post-pandemic inventory levels last year, securing models for the event and engaging manufacturers was a big challenge," said Szott. "We created other activations to generate excitement, but we ultimately learned that the cars are the stars of the show. That's what people want to see."
Szott says as soon as the 2022 show was over, the team went straight to work toward this vision for 2023, and more than doubled the brands featured. He points to the Detroit roots and relationships as the differentiator, saying "The unique thing about this show is it's run by the Detroit Auto Dealers Association, and this us the opportunity to work more locally with fellow dealers and leverage their relationships with the manufacturers, versus trying to go to the manufacturers on a national level. It's those local relationships that helped us to bring in 35 brands this year."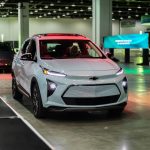 In terms of other differentiators, Szott says the indoor EV track is a must to experience. "We are offering ride-alongs with professional drivers so that show-goers can check out the model of their choosing. We know consumers have questions about the technology and performance of EVs. There are a lot of S turns on the track and a 300-foot acceleration lane and I think this activation will really showcase the performance of these EVs and help answer a lot of those questions."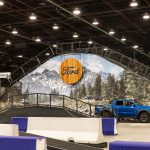 Ford, Jeep, and Ram have hearty test tracks on the show floor as well, taking participants nearly to the rafters of Huntington Place during high-performance ride-alongs.
The event includes Media Day, an opportunity for automakers and industry suppliers to debut new products and technologies; Technology Days, a chance to preview emerging mobility technologies and engage with innovators; Mobility Global Forum, a two-day symposium on mobility trends and new technologies; AutoMobili-D, an inside look at future mobility platforms; Charity Preview, a signature fundraising gala for children's charities; and the Public Show, a nine-day mobility and community celebration.
The involvement of key global leaders and performers is also quite notable. Top global thinker and author Malcolm Gladwell is the featured speaker at the new Mobility Global Forum.
"We're extremely pleased to launch the first year of our Mobility Global Forum with a phenomenal best-selling author who has taken the business world by storm," Szott. "Mr. Gladwell's presentation, together with the incredible roster of speakers we have planned over two days, will provide a compelling look at the dynamic world of new mobility and our place in it."
The show's signature black-tie Charity Preview Friday, September 15 features Jennifer Hudson, winner of all four major American entertainment awards. The Charity Preview has raised more than $123 million for children's charities in Southeastern Michigan since its inception in 1976. Singer and songwriter Shaggy will perform as well.
The AutoMobili-D technology showcase (AMD), now in its eighth year and part of Technology Days (September 13 and 14), is bigger than ever, occupying 85,000 sq. ft. on the main show floor.  The expanded exhibit area features an innovative cross-section of 53 mobility and technology displays as well as 150 startups in the Plug and Play Detroit Startup Arena.  APiS North America and Dunamis are exhibited during Technology Days.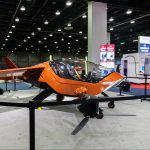 And underscoring the "Futuristic" sentiment of the show, two flying cars are showcased this year. AIR from Pardes Hana, Israel, returns to the for the second year with AIR ONE. Alef Aeronautics from San Mateo, CA, comes to the show with what the startup describes as "the first and only drivable flying car with vertical take-off and landing fitting today's road infrastructure."
So whether you are interested in EVs, have a thing for exotic brands, are in the market for a new utility vehicle or truck, are curious about flying vehicles, or just love cars, the present and the future of all things mobility can be experienced at the show.
The North American Auto Show is open to the public from Saturday, September 16 through Sunday, September 24 at Huntington Place.
As always, be sure to subscribe to our newsletter for regular updates on all things Detroit.